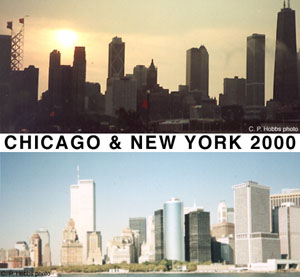 9/1 (Friday Night)
I flew from LAX to Chicago. Due to United just getting itself together again, they changed the flight number of my flight from #600 to something like #194...But everything got straightened out, and I was soon winging my way to Chicago!
9/2 (Saturday) I arrived in Chicago around 5 a.m. After claiming my luggage, I made the long walk to the airport CTA station. I noticed the closer I got to the station, the muggier the air seemed to get...
Before boarding I bought one of those "multi-ride" tickets from the ticket machine. In retrospect, though, I probably should have bought one of those "Unlimited Use" tickets... On the other hand, I did more walking than bus riding anyway.
The CTA train ride was about the same as it was when I last rode it back in 1998, although there were new recorded announcements and door-closing chimes on the trains. Once in the Loop, I transferred to a CTA #20 bus to my hotel.
Actually, I found the distance (from Madison/Halstead to the Loop) an easy and safe walk, even after dark. The train stations, both Union Station (Amtrak/Metra) and Ogilvie Transit Center (Metra) were also along Madison. Along the way, there is a bridge over the Chicago River. Passenger boat service is available, at least during the summer.

After getting settled at the hotel, I walked back up to the Loop. "Brunch" was at one of the ubitquous "Dunkin Donuts" joints downtown. I took the Chicago Architecture Foundation's free "Loop Tour" (a special CTA train travels around the Loop, and a guide points out various interesting features about the buildings it passes). CAF runs boat tours as well.



One place we did pass was the infamous Billy Goat Tavern, where I had lunch after the tour was over. Cheezborger? No, I had an Italian sausage sandwich....and Coke. No pepsi, just coke.
Later that evening, I thought I'd go exploring a bit. I remembered a neighborhood full of shops and restaurants somewhere on South Halsted. So, I boarded a southbound CTA #8. We passed through Greektown, then past the University of Illinois-Chicago, then through a "Garment District" neighborhood that had closed for the evening. As it was getting dark, I decided to take an Orange Line train back to the Loop. The train was lightly loaded, but got busier as we approached Downtown. I had dinner somewhere in the theater district, then caught #20 back to my hotel.
9/3 (Sunday)
Today I decided to do a somewhat more ambitious trip. After brunch with a few of my local relatives, I walked over to State St. and boarded a southbound #62.

The #62 was rather lightly loaded (considering that it was late Sunday morning). I don't think it got more than 1/3 full. Along Archer, the Spanish-language signs along many of the stores there reminded me a bit of Los Angeles, and the Polish-language signs reminded me that I was not, back home in L.A...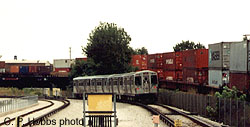 At the Pulaski Orange Line station, I took a short ride back to Western Ave, and got off there to wait for a northbound #49.
Western Avenue, and the #49 bus, runs through a wide variety of neighborhoods. The southern part has a wide landscaped median, and, generally, factories on either side. As one travels north, there are various railroad and other heavier industrial facilities, and a few run-down neighborhoods just outside of downtown..
Eventually, we reached the Western Brown Line station, and I got off the bus here and transferred to the train.
The CTA Brown Line has a stair-stepping route through the north part of the city. CTA had just extended Sunday service all the way to the loop (ever since 1952, Sunday service was just a shuttle to/from Belmont station). But my (older) map didn't indicate that, so I instinctively hopped off the Brown Line and onto the Red Line. The Red Line was standing room only, and it skipped the Wellington and Diversey stops that the Brown Line still made. So, at Fullerton, I switched back to the Brown Line and rode it to the Loop.
Later on that evening, I decided to try my luck with the #8 Halstead bus again, but this time in the opposite direction. So, I boarded a northbound #8, and got off at the Halstead Blue Line station. While a Metra commuter train thundered across a nearby overpass, I had to scout around for the station entrance, which turned out to be a rather unassuming blue handrail. I boarded the train, getting off at Dearborn, and walking through the long corridor to State St. State St. seemed very busy with pedestrians and traffic. I caught a northbound #151 bus (which was also very crowded) and rode it to Michigan Ave.

Michigan Ave. is fun to walk around, although most of the stores and malls there are the high-fashion, expensive kind. There are also lots of horse-drawn carriages. Other attractions include the Chicago Water Tower and the Museum of Contemporary Art.

After about an hour of Michgan Ave, I decided to go over to Navy Pier. I caught a westbound #66 bus, which took us through Northwestern University (Chicago campus) and its adjoining hospital. As we approached the Pier, the amount of traffic going there made me glad I was on the bus.

The Navy Pier had a "carnival midway" feel, although the north side of the pier is much quieter. After about an hour of walking around the pier, I caught the #66 bus again to the River North area (bars and restaurants, mostly) then walked back over to State St and caught the #29 and #20 buses back to my hotel for the night.
9/4 (Monday, Labor Day)
Due to the holiday, not much was really going on. I had planned to ride Metra up to Waukegan, then take the Wisconsin Coach Lines bus to Milwaukee. But the Metra holiday schedule was too limited for the kind of trip I really wanted to do, so I decided on another Metra trip: the Metra Electric Line to 95th St. I would ride back to Downtown Chicago via the CTA Red Line.

I walked over to Randolph St. Station (which is underground) and bought a ticket from the ticket machine (as far as I know, the Metra Electric line is the only Metra route that uses automatic ticketing). At about 1 p.m, we boarded the train, which consisted of three or four double decker electric cars. I think only two were opened, though, and they filled up rather quickly.

Many of the stops along the route are "request only"; the train will stop only if the passenger requests a particular stop when the conductor collects their ticket. (The train will also stop if there is someone waiting on the platform, visible to the engineer). As the train rolled along the track, the conductor would occasionally call out the list of stops that passengers had already requested.

I was the only one who got off at 95th St. The station was a bare platform with a small enclosed shelter. To get to street level, there was a long, dark staircase, strewn with paper and other junk. I probably wouldn't want to come here after dark...

I made my way to the bus stop, and, in about 15 minutes, the #111 arrived. There were only a few other passengers aboard. We passed by Chicago State University, and then through a quiet, low-income neighborhood, before ending up at the Dan Ryan Red Line station.
In addition to CTA buses and trains, Greyhound also serves the Dan Ryan station. There was the usual "hanging out in front of the Greyhound" crowd, but I ignored them and boarded the train. This particular train, which runs down the middle of I-57/I-94, was strangely devoid of riders for this time of day (mid-afternoon). There were more people walking through the train hawking stuff (candy, razors, perfume, etc.) than actual riders! I got off in Downtown Chicago and walked back to my hotel (or I might have taken the #20 bus, I forget which...)
Later that day, I walked over to State St, grabbed a #151 bus, and rode it to Michigan Avenue. From there, I walked over to Rush St, and ate at Geno's Pizza.
9/5 (Tuesday)
Not too much real travelling today. I checked out of the hotel and walked downtown. Today was the first workday since I had arrived in Chicago, and the streets sure were busy. I noticed that most people who arrived on the Metra trains simply walked to their offices, although CTA provides shuttle buses for some of the train stations. There were also PACE suburban buses and even special commuter buses named after buildings ("Amoco Building Express", "Manhattan Plaza Express", etc.)

I hung around Downtown for about an hour, taking pictures, then visited with a few relatives who lived and worked Downtown. The day went by rather quickly, and soon it was time to head to Chicago Union Station, for my Amtrak trip to New York.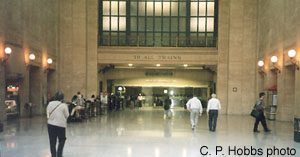 The Chicago Union Station was one of those nice, old, substantial train stations, with high ceilings and marble floors. Also lots of news-stands and shops. Since I was travelling in a sleeper (bought as a last minute splurge), I took advantage of the "Metropolitan Lounge" for sleeper passengers. The lounge was a crowded little room, with almost no place to sit down due to the amount of passengers there. We were asked to place our luggage in a luggage room, which got very crowded after awhile. On the other hand, they did have free coffee and cokes, and the staff was pleasant. I glanced around at my fellow passengers; mostly senior citizens, a few families, and a couple of "railfans".
The train (#48, the Lake Shore Limited) was due to leave Chicago at 7 p.m. However, we didn't start boarding until 7:45, due to some mechanical problem with the diner, or so we were told.
Finally (8 p.m.) we were allowed to walk to the train platform. It was a long train, at least 25-30 cars (but I lost count) not including roadrailers (special truck trailers that can also be attached to a train). Amtrak staff directed me to my sleeper room, where the attendant described all of the features:
Lights, lights, lights. Buttons for the ceiling light, the reading light, the floor light, on, off, dim, etc.

Radio and TV. There were three radio channels (pop, jazz and country) and two TV channels (a kids' cartoon and a movie that looked like a musical of some kind)

Sink and toilet. The toilet was in the room on Viewliner sleepers. I thought this was both handy and kind of nasty at the same time, sort of like going back to the days of the chamber pot. (It also made me glad that I was travelling alone). The sink was designed to fold up when not in use. Folding the sink also drained it, but occasionally the sink contents would splash a bit.

Also, hotel-size soap and towels, plus a "bedtime sweet", which turned out to be a couple of packets of Oreo's ! (For $270 a night I was expecting something more like Godiva chocolate truffles, but...)

It's difficult to get good pictures of a Viewliner Standard Bedroom! Also try looking at http://www.jefflubchanskycpa.com/VIEWSLEEPER-NOV19-98SLIDE11.jpg, (external site)
We sat in the station for awhile, watching Metra trains go by until we finally started moving at 8:30. There was a short pause, while the roadrailers (freight cars) were being attached, then we were on our way for real.

The diner (which had problems earlier on) wasn't quite ready for us, so I walked down to the lounge for a quick snack. Most of the choices there consisted of overpriced microwaved sandwiches (including White Castle burgers). Didn't seem too appealing, so I settled for a bag of chips and a Pepsi, which I took back to my room (too many smokers in the lounge).

The first call for dinner was at 10:00 p.m., a bit later than I normally like to eat. There was no reservation requirement, but they did call the sleeper passengers first. Most of the dining car staff was polite--except for this one waitress (I think she was the chief steward or something). She barked at people to sit down, yelled at employees in front of customers, and even threw a receipt at a waiter because he filled it out partially wrong. Not good.

The food was pretty good, though. There was a choice of entree (beef, salmon, chicken or vegetarian pasta), side dishes, and dessert. Everything was free to sleeper passengers (except alcohol--a nice bottle of Chardonnay set me back $3.50). Most people tipped $2 for dinner, $1 for breakfast and lunch. Food was served on china plates, with real silverware and linen napkins.

After dinner, I went back to my room, and had the attendant make up the beds. I only used the lower bunk, and it was narrow but comfortable. The upper bunk jiggled a bit, and for awhile I thought it was coming down, but fortunately that didn't happen.
9/6 (Wednesday)
I woke up briefly around 4 a.m., as the train was waiting at the station in Erie, PA. It was still dark and I shortly went back to sleep. The next thing I remember was the early morning light streaming through the tinted window. There wasn't much scenery at this point, just open fields, but I just lay back and watched it all pass by.

At Buffalo, we got local newspapers. I read mine, then considered taking a shower. But before I could, they made the last call for breakfast. So I took a quick sponge bath instead, and headed for the diner.

It was the same drill, with the head waitress barking orders. It felt more like a military mess hall, than a romantic way to travel. But, again, the food was pretty good, although they used plastic plates this time.

By now we were travelling through the Mohawk river valley. Most of the time the scenery consisted of the river and lots of trees, although we did pass the occasional small town or industrial spur from time to time. At Syracuse, I noticed something especially curious: just before we arrived at the station, we passed a large shopping mall that had a railway platform next to it! I wondered what it could possibly be used for. (Later on, I found out that it was used for the "Ontrack" excursion rail service)

Lunch wasn't as impressive as the previous two meals. They started serving it about 12 noon. if I recall correctly. But at 1 p.m., the train would split at Albany, with the dining car continuing to New York. So they were trying to get Boston-branch passengers served first. Fair enough. But as time went on, they started rushing more, and even asking Boston passengers to take their meals "to go". Also we started running out of food. One of my table mates got the last pot pie. Then there was no more wine. No more ice cream. In fact, no more desserts at all (I think they said that to get us out of the diner quickly!)

The kid sitting across from me had a piece of pizza (probably from the lounge) but didn't seem to like it much...
We arrived in Albany, around 1:20 p.m. There, we took about 25 minutes to split the train (part of it goes to New York, the other part to Boston) and to drop the roadrailers (there was a long string of them, at least 15). Passengers could get out and walk around the station area, but there wasn't a whole lot to see, really.

Finally, it was time to get back on board, and we were off again, this time down the Hudson River Valley. The train made a few stops (to let people off) but we passed by lots of Metro North commuter stops as well. Soon, we went through a long tunnel, and arrived in Penn Station at 4 p.m., only one hour behind schedule. We had made it to New York!

I gathered all my bags, gave a generous tip to the sleeper attendant, and made my way off the platform and toward the station concourse. As I had expected, Penn Station was an extraordinary busy place, and it took me a little while to get my bearings. But within fifteen minutes or so, I finally made it out to the street.
From Penn Station, I walked south along Seventh Ave, and 25th St. to my hotel. As I walked along, I noticed that this part of New York wasn't that horribly different than, say, Broadway in Downtown L.A. (Of course, this part of New York is much more culturally diverse). Also I noticed differences in how pedestrians handle traffic lights:
In L.A., people will usually wait on the curb until the green signal shows up.
In Chicago, people will walk across on a red signal if no cars are coming.
In New York, people will walk across on a red signal even if a truck is bearing down on them. Of course, traffic in this part of Manhattan is usually gridlock-slow...
Of course, we've all heard stories about panhandlers, etc. in New York, but I didn't see any on the way to the hotel; in fact, I only saw two or three the whole time I was in New York! (Back in Chicago, it seems that every downtown Dunkin' Donuts had its very own panhandler standing in the door).

After checking in at the hotel, I was feeling hungry, so I started walking north along 6th Ave, then Broadway. Near the Manhattan Mall, I had a quick bite, then continued walking toward 42nd St, and Times Square.
To my own suprise, I was impressed with Times Square. As I walked closer and closer to 42nd St, I had an "otherworldly" feeling. Of course, I had seen pictures of Times Square in books, newspapers and on television. But seeing it in person, for real, for the first time...put me in a sort of sensory overload for a few minutes.

(Of course, this was about the time my camera decided to jam, overexposing some of my film...A quick trip to a nearby camera store, to purchase an overpriced(?) disposable camera, and I was back in action!)

Now I was ready for my first New York subway ride. Although I knew about the Metrocard farecard, I didn't see a ticket machine handy, so I just bought a token ($1.50)
About the subway itself: The ride is bumpy if you're used to the newer systems like BART, LA Metro, etc., but it's no worse than the Chicago CTA. The cars are clean, almost 98% free of grafitti, and mostly air-conditioned. The old stereotype of grafitti-covered cars and rampant crime in the subways is just about gone, although one still must be on their guard there, or on the street, in any big city.
I rode the "N" train from 42nd St. to 23rd St. It wasn't even particularly crowded, although this was around 7 p.m. When I got off, I found a ticket machine and bought a Metrocard. It was about this time I also noticed something else different about the NY subway: unlike many other subways (Chicago's CTA, BART, etc.) many stations have no mezzanines: there are separate entrances on either side of the street for each direction of subway travel. Like riding a bus, it is necessary to use the entrance on the proper side of the street. (They are well marked, though).
9/7 (Thursday)
After breakfast in the hotel restaurant (a dingy room with limited menu selections and a waitstaff that reminded me of the head steward on the Lake Shore Limited) I walked back up to Times Square, and explored the neighborhood there. There's a visitor's center that distributes (among other things) subway and bus maps. They had everything except the map of the entire subway system, and the Brooklyn bus map.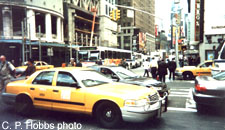 While walking around, I noticed that street traffic, particularly in and around Times Square, was horribly gridlocked and slow, not so much with private cars, but with cabs, delivery vehicles, cabs, transit buses, cabs, tour buses, cabs, limousines, more cabs, construction vehicles (several buildings in Manhattan are being redeveloped) and still more cabs. It made the morning commute on I-405 in L.A. seem absolutely speedy in comparison. Walking was probably the best way to get around while seeing everything, so walk I did, while taking advantage of an occasional subway ride here and there, using my stored-value Metrocard.

Later that afternoon, I caught the MTA #M6 bus going south to the ferry terminal. Because of the perpetual congestion in Midtown Manhattan, the wait for a bus can be long. But finally one arrived. It was about a 20-30 minute ride to the ferry. While riding, I noticed that the NYCMTA buses have a feature I had not seen on any other system: a display that shows the fare that boarding passengers pay. Ridership on this bus was about half-full.

At the ferry terminal (which, like most other transportation terminals in New York, featured newstands and other sundry stores) there was a 15-minute wait to board the boat.
| | | |
| --- | --- | --- |
| | The 30-minute ferry ride was smooth and uneventful, although there was a good view of of the New York Skyline, plus reasonable views of the Verrazano-Narrows Bridge and the Statue of Liberty (though no substitute for riding out to the statue itself. Maybe next trip...). As far as I could tell, they didn't serve food on board, unlike the Washington State ferries. On the other hand, this ferry was fare-free. | |
Once on Staten Island, I boarded a Staten Island Railway train and rode it all the way to the end of the line in Tottenville. As the train operated over its mostly-elevated route (there's a short subway segment near the north end), the passenger load, which started out as a standing load, deboarded, with most of it gone by the time we reached Hugenot station. There were only a few people still on board by tthe time we reached Tottenville.

Tottenville reminded me of a small rural town. Of course, there were plenty of NYCMTA buses (and NYPD cop cars) to remind me that this was as much a part of New York City as was Manhattan. After walking around a little bit, I located the stop for the #S78 bus. I rode this bus to Hyland, where I changed to a #S79 bus. These local buses had moderate ridership, which increased as we got further north on the island. I noticed an almost constant stream of MTA commuter buses going back the other way.

#S79 crossed the Verrazano-Narrows Bridge on the lower (truck) level, and into Brooklyn. After touring a few residential and commercial areas, the route terminated at the 86th St. subway station. There I caught an "R" train back to Manhattan, stopping at Canal St to have dinner in Chinatown and to walk through Little Italy.
9/8 (Friday)
This was getting to be a habit. I walked along 6th St and Broadway to Times Square, stopping along the way for a quick bite. Most of that morning was taken up exploring the New York Public Library, Grand Central Terminal (which has recently become known for being quite the gourmet dining experience rather than a long distance train station, although Metro North commuter trains still stop there), and the Empire State Building.

While boarding the subway at Grand Central Terminal, there were so many people swiping cards through faregates that the "beep" sounded continuous, like a flock of alien birds....
Later that afternoon (about 1-2 p.m.) or so, I decided to head for the NY Transit Museum in Brooklyn. I still hadn't found a Brooklyn bus map, but decided to wing it anyway. I did want to stop by a music store off Canal St. along the way.
At first I waited for the #M6 bus again, but it never showed up (obviously, stuck in mid-Manhattan somewhere). So I took the subway to Canal St, and walked over to the music store on Mercer St. They had a nice collection of instruments, but not the one I was looking for, so I walked back to the Lafayette St subway station. (Lafayette St. had a very tricky entry gate, in that the same gate is used for both entry and exit, and it took a while to figure it out)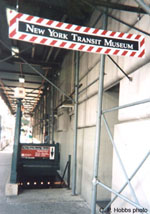 Getting to the Transit Museum involved taking the "6" train to Brooklyn Bridge, then the "4" to Fulton St, and finally the "A" to Hoyt/Schemerhorn. Once there, the Transit Museum wasn't too difficult to locate (in fact, the museum itself is located in an unused subway station!) As expected, there were plenty of old subway cars, maps, and historical background information on the subway system. There was also the gift-shop, with everything from the usual t-shirts and hats, to a shower curtain with a subway map on it. It all seemed rather pricey, so I didn't buy anything. (My shower already has glass doors on it anyway...)
After visiting the Museum, I walked around Downtown Brooklyn and through an open-air shopping area called "Fulton Mall". Then I got back on the subway and rode to 33rd St. station, for my next trip.

PATH (Port Authority Trans Hudson) is another rail system that runs two lines between Manhattan and Newark, NJ. The trains are somewhat similar to New York MTA subway trains, but the fare system is different ($1 per ride, with various multi-ride tickets available, but PATH and MTA fare instruments are not interchangeable). Although there's nothing preventing people from riding PATH locally within New York, most PATH riders tend to be commuters coming to/from New Jersey points.

PATH is extremely BART-like, at least in my view. It runs in a subway under Manhattan, under the Hudson River and all the way to Journal Square (where I had to transfer to another train going all the way to Newark). From Journal Square, it mostly runs above ground, providing a scenic, if industrial, view. The last stop in Newark is at Penn Station, where one can catch all sorts of New Jersey Transit buses and trains, and the famous City Subway.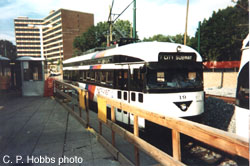 The City Subway (which is a misnomer--most of the route, except for a the portion between Penn Station and Warren, is above ground) runs old-time streetcars (PCC cars) along a single route. This service uses a barrier-free, proof-of-payment fare collection system (passengers buy tickets from machines located in stations, and fare inspectors occasionally board the vehicles to make sure everyone has paid).
I rode the City Subway from end-to-end, from Penn Station to the Franklin station. It was a scenic, mostly street level ride with at least one grade crossing (Heller?). At Franklin station I watched a few NJTransit buses pull in and out. Should I try one and see where it goes? Maybe next trip. So I got back on the PCC car to Penn Station. On the way, a fare inspector got on and checked everyone's ticket.
The PATH train back to New York was pretty crowded, especially east of Journal Square. I got off at the 33rd St. station, had dinner at the Manhattan Mall, then walked back to my hotel.
9/9 (Saturday)
As I was planning my trips for the day, I remembered that I had an early (7 a.m.) flight back to L.A. the next day. It wouldn't be a bad idea to think about the best way to get to the airport (LGA).

My original plan was to ride the "N" subway line to Astoria, then catch the #M60 bus to LGA. But I was leaning away from that idea, especially when I found out that a large portion of the "N" was to be out of service early Sunday.

I checked the phone book and started calling shuttle companies. One shuttle service offered service to the airport for a low $16 fare. But when I called them, they started giving me the runaround. First they said that they couldn't pick me up without a voucher. Then they said, I could pay with cash if I walked five blocks to a nearby hotel. After that, they said I had in order to get to the airport by 6:30 a.m,, I would need to board the shuttle very early (5:30 a.m.).

OK, so let's see. I can pay $16 for the privilege of walking five blocks with my luggage to catch a shuttle an hour early.

Hmm...if I wanted to do that, I could just walk over to the Port Authority bus terminal and ride one of their airport buses for about $10!

The next shuttle company I tried to call just gave me a busy signal, over and over.

I then remembered that the hotel offered "transportation to the airport"--for $35, no including tolls and tip. Not wishing to submit myself to the vagaries of New York's cabs (although, that might have not been so bad either), I decided to take the hotel up on its offer.

With the issue of getting to the airport settled, I started out on my next trip. I walked up to Penn Station. After getting my bearings a bit (it was almost as confusing as before), I walked toward the NJ Transit ticket windows. There was a flyer for a "Transit Festival" to be held in New Jersey... next weekend, after I would have already returned home. Oh well, maybe next year. I took a quick look around the NJ Transit platform and saw a few railcars, noting to myself that the three-and-two seating on some of them would be rather uncomfortable...

Onward and up(town) ward. I walked down to the subway platform and listened to the steel drum player there before taking the "1" subway toward Columbia University. But there was some repair work going on north of 96th St, so everyone got off and caught shuttle buses on the street. We were all given orange-colored "General Order" transfers by the subway agent, but the bus drivers didn't even look at them.

The shuttle buses made stops only at the subway stations (96th, 103rd, 110th, etc.) I got off the bus at Columbia University and wandered around there for a half hour.
Columbia University has a relatively small campus in Manhattan. After I entered the gates, the first thing I saw was a big building marked "Library", so I went inside, but found out that it was now the administration building. There was a large rotunda which held a nice surprise: a small exhibition on electronic music, including some of the original Moog synthesizers and computer punched tape used to compose early electronic and computer music. (Columbia was one of the places where some of this experimental music got started!) After browsing this exhibit for almost half an hour, I walked back outside.

The current library was across the quad, but it required Columbia ID to enter (as did most of the campus buildings). Fortunately, the bookstore did not, so I bought a few souvenir items for a friend who graduated from Columbia many years ago.
Now, on to Harlem. I waited for a #M60 bus, which came within 10 minutes. It was moderately crowded, but got absolutely packed as we travelled along the route. I got off at Martin Luther King and Malcolm X (formerly known as 125th St and Lenox, respectively).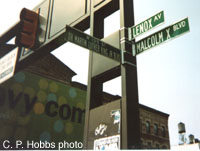 Harlem, or at least this part of it, surprised me, quite frankly. I envisioned a place like much of South Central Los Angeles, or South Chicago, bleak and bereft of anything other than run-down buildings, liquor stores and welfare offices. But here was an Old Navy store, and a Starbucks, and a number of other well-known businesses. The crowds on the sidewalks were just as heavy as any other part of Manhattan.
Finally a northbound #M7 bus showed up. I boarded, and we drove north along Malcolm X. As we traveled farther north, the neighborhood looked rougher, with boarded-up stores and older apartment buildings. Approaching 135th St, there were a few neighborhood-type stores open. I got off the bus at 135th and walked across the street to the Schomburg Center.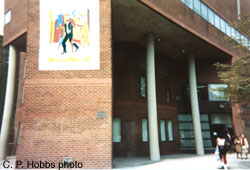 The Schomburg Center (actually a unit of the New York Public Library) had an informative, if somewhat depressing, exhibition on slavery in America. There was also a reception for the exhibit going on, so I spent about an hour there. The Schomburg also had a good bookstore, so I bought a few gifts there as well.
I rode back to Midtown Manhattan on the "9" train. It was one of those older, red-colored trains and the ride seemed bumpier than normal. It was pretty crowded (standing room only at times) too. I got off at Penn Station, stopped by a "Ray's Pizza" (was it the Original?) went back to my hotel and took a short rest...
A bit later that afternoon, I decided to go out again, as there was supposed to be a jazz concert at the Guggenheim Museum. Now the weather forcast predicted rain for today, but I paid no mind...the day seemed so perfect up to now. Besides, what's a little rain? I've been to Seattle/Vancouver three times already!
I walked over to 23rd and Park Avenue, and caught the "6" train. Of course, I happened to pick a car without air-conditioning, and it was crowded as heck. I could have walked to another car, but I just stuck with it until 86th, where I got off.
While walking to the museum, it started to rain. Hard! By the time I got to the Guggenheim, I was nearly soaked. The museum lobby was crowded with tourists just looking for a place to get out of the rain for a while.
I wasn't really thrilled with either the current art exhibit or the "jazz" concert, so I just waited until the rain let up a bit, then walked over to the bus stop on 5th Av. and took a bus (could have been a #M1, M2, M3 or M4) south, alongside Central Park, got off at 34th, and walked west to 2nd Ave.
This was the "Murray Hill" district, an upscale neighborhood of high rise apartments and expensive stores. I did have dinner here, then browsed through a street fair held by nearby St. Vartan's Church.
After that, I simply walked south along 2nd Ave and then 25th St, simply looking around on my way back to the hotel... not much to do there except prepare for my 7 a.m. flight.
9/10 (Sunday)
Last day in New York. Not much to say here, except that the car service I had ordered the day before (through the hotel) was ready and waiting, and did a good job navigating the freeways between Manhattan and LGA. There were no tolls involved, but I did give the driver a good tip.

The Frontier Airlines terminal at LGA looked kind of bare, like the old Ontario (Calif.) Airport terminal did back in the 70's. The flight to LAX (with a stop in Denver) was uneventful as well. (I did find out that Frontier serves rather substantial snacks on their flights--not full meals, but not just peanuts and coke either!)
---
Transit | Home Page