Note: This was a combination of a business trip to Washington DC and a vacation to Philadelphia and New York.
Tuesday, March 12
I got to LAX (via Flyaway bus from Van Nuys) at around 6:15. Check in and security went by quickly. A few people (not me) got shoe-checked.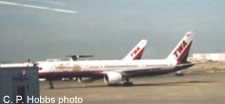 The first flight segment was on a AA 767 (but there were still plenty of TWA logos on the emergency card, glassware, etc). Nice and roomy plane, about 2/3rds full.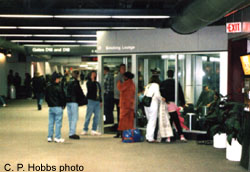 We had a 1 1/2 hour layover at St Louis. STL is a big airport, and I had quite a walk. I was getting hungry too. A Chinese restaurant in the airport smelled appetizing, but I wasn't up to "wok"-ing back there and then trying to get to my gate on time...As I walked through the airport, I noticed numerous "smoking lounges"...glassed-in booths where smokers could get one last fix before flying onward.

Heightened security measures were apparent at the gate, as airport police did more stringent checks of the seating area. Around 3:30 pm we started to board the plane, but due to airport traffic, we didn't leave the ground until 4:20
As we got closer to DCA, the pilot warned us about not being permitted to leave our seats 30-minutes before landing. A schoolmarmish flight attended walked up and down the aisle, saying "Does anyone need to go to the bathroom? We had one man on a flight last week, and it wasn't funny!". Fortunately, we landed without incident.
DCA seemed rather quiet. There were no lines anywhere, even at the (incoming) security gate area. I walked past the taxi and SuperShuttle counters, toward the Metro. A light rain had begun to fall, but it was no worse than Seattle, or Paris.
I boarded a Blue Line train, which was about 1/3rd full. At Metro Center, I changed to a Red Line train (didn't have to wait long for it either). The trains reminded me of BART, but their motor sounds reminded me more of the LA Metro (especially the high pitched whine when they were pulling into the station). It was only a short ride to Dupont Circle, where I got off.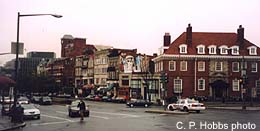 The walk to the hotel was short (about 10 minutes) and pleasant, even in the rain. Dupont Circle is a gentrified, yuppified neighborhood full of restaurants, book stores and such. Lots of people out and about; young people, a few older "suits" from the hotels, a bum or two asking for change, that's all.
After getting settled in the hotel (darn hotel card keys never work right the first time!) I walked back down to Dupont Circle. I was looking for a particular internet cafe, but never found it, so I walked back to the hotel, had dinner and turned in.

Wednesday, March 13
After registering for my conference, and listening to a couple of presentations, I walked back along Connecticut St to try to find the Internet Cafe, (There was internet available at the conference, but only in 10-minute segments due to the high demand). Nearer to the hotel, though, I did find a bookstore that provides access in 30-minute segments for $5. A bit later I walked around Dupont Circle and found the other cybercafe, near 17th and Church. (I'm kind of glad I didn't find it the night before, as the trip requird walking down several streets that would have undoubtedly been dark/bereft of pedestrian activity at that time of night. Unpleasant at the very least).
Thursday, March 14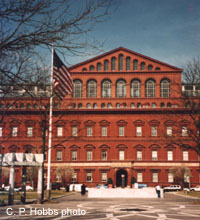 Around noontime, I caught the Metro to Judiciary Square, and visited the National Building Museum. They had an interesting (if small) exhibit on the history of public transit and its effect on the city, starting with the early days of the streetcar, then the streetcar suburbs, the automobile suburbs and finally the return of light rail. Recommended (it will run through October of 2002).

Also at the museum, an exhibit on William L. Price, an American architect who should be considered in the same league as Frank Lloyd Wright. (Good background for my upcoming Philly trip...)


After about 40 minutes at the museum, I walked over to Union Station, picked up some Amtrak information for the next part of this trip, and had lunch in the food court. (Remember, Washington Union Station is a mall that just happens to have a train station in it). Then back on the Metro to Federal Triangle, where I wandered around the Reagan Building/Moynihan Plaza for about 30-40 minutes (not much there, just a rather sterile shopping/business oriented mall with guards and metal detectors at each entrance. (They do have a piece of the Berlin Wall there, but I didn't get to see it).

From Federal Triangle, I rode the Orange Line Metro to Falls Church. (Once past Ballston station, the line is in the median of I-66, reminiscent of the BART lines out in the East Bay). I got off at Falls Church West, and took a Metrobus #28A to Tyson's Corner. This is a very suburban area, with wide streets and lots of traffic, but this bus was still heavily used. The bus even had a working "Talking Bus" and interior headsign/visual stop announcement feature!
The bus looped around the Tyson's Corner Shopping Center (a big mall with Bloomingdale's and Nordstrom's, and a few other department stores) and dropped us off behind a parking structure in sight of Nordstroms. Both Metrobus and Fairfax Connector buses stop here. I boarded a Metrobus #5K running south to George Mason Univ. (I should have caught a northbound bus to Rosslyn, but...) The bus trip was scenic enough (mostly houses on lots of acres of wooded land), but it was an older Flxible that had a bad tranny. Real bumpy ride too. And the traffic....Not too many riders on this bus (about 6-8)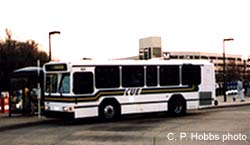 Unfortunately, #5K only ran to the university campus, not to Metro. So I transferred to one of the CUE shuttle buses (jointly run by the City of Fairfax and GMU). These were 35 foot Gilligs, also with internal headsigns/stop announcements. It took about 40 minutes to get to the Metro station (on the other side of town) due to traffic, long red lights, and general route loopiness. The buses filled up at GMU, shopping centers along the route, and at the Metro station, but ridership dropped off in residential areas and along streets with bad pedestrian access to businesses along the route.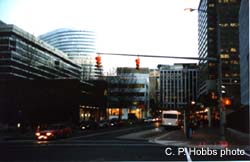 At the Fairfax/Vienna Metro (end of the Orange Line) I caught the Metro and rode it to Rosslyn station. (It was getting expensive too...in the District, each trip costs $1.10, but out in the burbs, they start soaking you for $2 and up. It might make a lot of sense to get a day pass...)
Rosslyn was nice enough, lots of tall buildings with retail on the ground floor. There was a well used bus terminal too, with not only Metrobus, but a variety of corporate and governmental shuttles, as well as a shuttle to Georgetown University. Even Greyhound stopped here.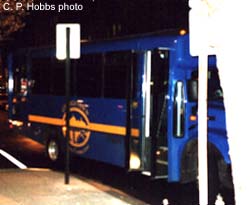 What I wanted to catch was the new Georgetown shuttle (a bus service connecting Georgetown to various Metro stations). But a stop wasn't marked for it. Finally, I got one to stop just outside the Metro station entrance. (It was a 25-passenger cutaway). Fare was $.50, and after a rather large crowd got off, I and about 4-5 others got on.
This bus only makes stops at the Metro stations at Rosslyn and Dupont Circle, as well as in Georgetown itself, but otherwise runs express. The bus crossed the Potomac via the Key Bridge, then got stuck in hideous traffic in Georgetown.
Georgetown is one of those trendy neighborhoods full of trendy stores. Might be worth a look later on, but it's not too horribly different than Dupont Circle. Well we finally made it through all the traffic, then the bus let us off somewhere near the 19th St. exit of Dupont Circle Metro. I walked back to my hotel from there. By that time, it was about 7 p.m...

Friday, March 15
The plan was to visit The Great Blacks in Wax Museum in Baltimore, as a coworker had recommended it. I had heard about WMATA's new #B30, the express between Greenbelt Metro and the BWI Airport. At BWI, a connection to the MTA Light Rail could be made.

So I took the Red Line to Gallery Place, where I changed to a Green Line train. The train took about 30 minutes to get to the end of the line (Greenbelt). Of course, it became more and more suburban and BART-like as we went along. At one point we were alongside the MARC (Maryland commuter rail) tracks that run between Baltimore and Washington DC.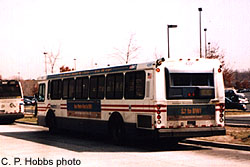 At Greenbelt, I transferred to the B30 bus ($1.15 with a MetroRail to bus transfer, otherwise $2). The bus was an ordinary transit bus that had been fitted with commuter seats and luggage racks. About 12 boarded along with me, many with luggage.
The bus ran express via the scenic Baltimore-Washington Parkway. At some point, there were delays due to road construction, but the trip was otherwise uneventful.

At BWI, it was a short walk to the Light Rail terminal. I bought an MTA day pass ($3) from the ticket machine and boarded the train.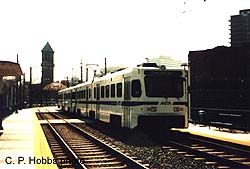 How to describe the MTA Maryland light rail? In a word, slow, at least compared to other light rail lines that I have ridden. Lots of single tracking, relatively long waits at stations, lots of steps to climb into trains, and slow street running (and no light synchronization) made this a rather time consuming trip.
Since my destination was North Ave, I needed to transfer from the Airport route onto the main route. It took about 15 minutes for the proper train to come, which took me to North Ave...I could have *walked* the distance in that time, if there had been a safe place to do so!
The North Ave station was another story. I was supposed to transfer to a bus there, but there was no indication of where it was to stop. In fact, North Ave was on a bridge just above the rail tracks, but there didn't seem to be a well marked pedestrian path, and I couldn't see any bus stops. So I decided to scratch this part of the trip, and I rode the light rail back through Downtown Baltimore.

Downtown Baltimore looks, well old, not in a wholly charming way, but it seems to be trying to spruce itself up...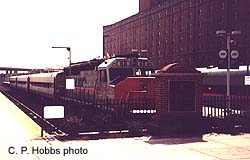 On the way back, I stopped at the Camden Yards station, thinking I might catch a MARC train back. But the next MARC wouldn't leave for about 2 hours. Oh well, back on the light rail, which I rode back to BWI. There, I caught the B30 again (which was late due to mechanical problems) and rode back to Greenbelt, but not before running into some horrendous traffic on the Baltimore-Washington Parkway.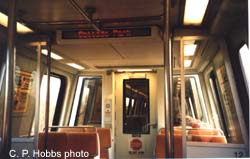 At Greenbelt, I caught an absolutely-brand-spanking-new Metrorail train (it had that new-train smell!) and rode it to Fort Totten station, where I transferred to the Red Line. On this portion of the Red Line (which runs elevated through a rough-looking part of town), there is supposed to be a new infill station being built at New York Ave. I saw no evidence of construction, but as we approached Union Station, I did see a rail yard full of MARC and VRE trains...

I got off at Dupont Circle and walked back to the hotel.
That evening, after the last presentation had finished, I walked down to the Dupont Center Metro station and caught a Red Line train to Gallery Place, then transferred to a Yellow Line. I got off at L'Enfant Plaza.
L'Enfant Plaza is a large office building with a distinctive, wavy design. Since the business day was just about over, it was pretty empty, although many stores in the underground mall were still open.
While on the station escalator, I heard a wierd, mechanical sounding female voice. A new station announcement? No, just someone at the top of the escalator, asking people to sign a petition.
I walked out to the street, where a LED-headsigned CommuterRide coach to Prince William County (VA) was waiting. My original plan was to ride a VRE commuter train to Lorton, and ride the WMATA #9 bus back. But it was getting dark, so I decided to save that excursion for my next Washington DC trip. A #5A with a bad headsign ("Good Morning" at 7 p.m???) roared by as I walked back to the Metro station.
Saturday, March 16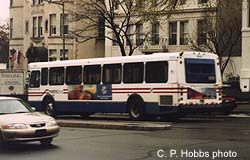 Saturday afternoon, after my last class was over, I walked to Connecticut Ave, and....instead of walking down to the Metro, I caught a WMATA #42. This essentially follows the same route as the Red Line, at least as far as Metro Center. Of course, this time I would be able to see what I was riding through....

I noticed that the bus driver didn't pull all the way to the curb, but kind of stopped in the traffic lane, so I had to "step lively". I received a two-hour, unlimited use transfer.


The ride down Connecticut was pleasant enough. Ridership was mostly seniors, and the bus was a little more than half full when I boarded. As we approached downtown, the ridership started to drop off. This route also provided good views of the White House (through Lafayette Park) and the just-starting-to-bloom cherry blossoms....

After walking around a bit, I made my way to Constitution Ave, near the Washington Monument. I waited about 15-20 minutes in the gathering darkness for a WMATA #13. Eventually, one arrived, with one other passenger. Again, the driver stopped some distance away from the curb....

The #13 continued along Constitution, then swung behind the Lincoln Memorial and across the Arlington Bridge into the National Cemetery. I saw a few of the monuments as the bus looped onto the Jefferson Davis Hwy (which has been closed to "trucks and tour buses"...but not transit!) Eventually, we arrived at the new Pentagon transit center.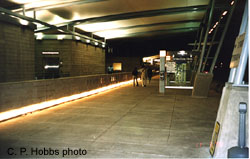 The new transit center had been built to replace the old facility which was thought to be too close to the Pentagon building. Construction of the new center started in late 2000 and was nearly completed last December, when the center opened for use. (Of course, other events intervened....I didn't see much Sept. 11 related construction, as that was on the other side of the Pentagon). The existing Metro station entrance is still in use, and I could still see the old signage for the previous transit center as I descended into the Metro station.
The new center has two levels, with WMATA buses serving the upper level, and other bus systems (Fairfax, Alexandria, Prince William, etc) one the lower level. In big silver letters there is a sign: "Pentagon Transit Center", with a dedication to the victims of Sept. 11 in smaller silver letters.

I caught a Yellow Line to Metro Center, then a Red back to Dupont Circle. This would be my last night in Washington DC.
Sunday, March 17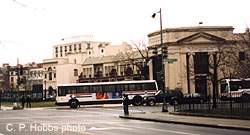 On Sunday I checked out of the hotel, then made the 15-minute walk through what had become very familiar territory. Dupont Circle is a nice part of DC, reminding me a little of London, Paris and San Francisco, all at once. I'll be back...if I can find an affordable hotel there, that is!


I took the Red Line to Union Station, then walked to the Amtrak counter and bought a ticket to Philadelphia, using the Quik-Trak automatic ticket machine. $49 for the next unreserved train, which would leave at 12:05 p.m. (Reserved trains and the fancy-schmancy Acela Express cost up to $90!)

I had a quick lunch in the station, then prepared to board the train, along with a large crowd. The train used the same Amfleet "tube" cars that used to run on the LA-San Diego routes, and left about 3/4 full. We picked up several more passengers at Baltimore Airport and downtown Baltimore. The conductors announced "This train is oversold, make sure you free up all the seats". There might have been a few standees, though I didn't see any for long.

Although the track was a tad bumpy near the stations, the ride was fast and smooth otherwise. We must have been going at least 90 mph, if not faster. We flashed by MARC, and later SEPTA, commuter rail stations so fast that I could barely read their signs. Around 2 p.m. we arrived at Philadelphia 30th Station, where I deboarded and struggled with my bags on the stairs.

Accessing the subway station required a short walk outside (there may have been better connections, but I didn't notice them). Once outside I noticed a long line of SEPTA buses on both sides of Market St. Uh, oh, was the subway broken? Just west of 30th St station (there were doing some weekend construction work on the elevated portion between 30th and 69th St).

So, I climbed down the stairs with my luggage and walked toward the subway platform. I bought a couple of subway tokens (at $2, one of the highest base fares in the United States!) but at this station, probably because of the truncated service, no-one collected them. I got on the train and rode it to 15th st (as it turned out, 13th St would have gotten me closer to my hotel), I walked around Downtown Philadelphia, getting my bearings a bit, then finally made it to my hotel.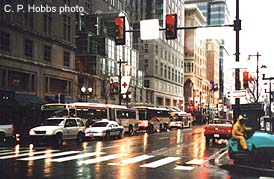 After getting checked in and settled a bit, I walked around downtown Philadelphia for a while. The streets, while very narrow (other than Market and Broad) are laid out in a perfect grid pattern, making it easy to walk around. No diagonals (as in Washington DC) to confuse you....
I walked up Walnut St, looking for an Internet cafe I had heard about. The neighborhood looked very upscale, and at the address I had been given, there was a fancy bathtub store instead. But a few blocks away, I did find a coffee shop with free Internet. (Unfortunately, the site I used to post this trip report was temporarily down...)

As I left the coffee shop, it began to rain. Some of the raindrops looked suspicially white, light, and fluffy. Uh-oh.... I walked back to my hotel.
A bit later, I walked back to Market St and took a Septa #44 going toward Independence Mall. This was a nice low floor bus, not quite sure who made it (SEPTA likes to take off all the builders plates). At the Mall, I walked around a bit, decided to come back tomorrow, then got on the Market-Frankford Subway going west.
As I descended into the station, I noticed the "old subway smell"--creosote, a little ozone, a bit of disinfectant, a touch of urine...And unlike BART, or WMATA's gentle escalator ride, climbing up and down the stairways of the older subways (CTA, NYC-MTA, SEPTA...) always inspired in me a bit of adventure, a little trepidation perhaps...

Well anyway, I boarded the train. The SEPTA rapid transit equipment reminds me a bit of Chicago CTA, maybe somewhat shinier and a little cleaner. I rode to 15th st, then deboarded and climbed down more stairs into the Subway Surface area.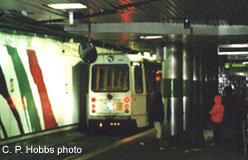 Subway Surface uses Kawasaki streetcars (no more PCC's, at least I didn't see any other than the one in the SEPTA headquarters building) in a subway under Market St, then they go into street running on about five routes, fanning out from the 40th St station. (Those of you who are familiar with the Muni Metro subway-streetcar system will be glad to know that the SEPTA subway-surface system works about the same way--except that there are free transfers between rapid transit and streetcars at the SEPTA Market St. stations!)

I rode a #13, which primarily runs along Chester St on its way to Darby (a suburb just southwest of Phila.) The neighborhood consisted of dense rowhouses and apartments, and actually looked reasonable until about 50th st, where things deteriorated (boarded up stores, houses in worse condition, very little open except for an occasional liquor store). Although we left the subway with a full seated load, most of the passenger load slowly dissipated, with little replacement.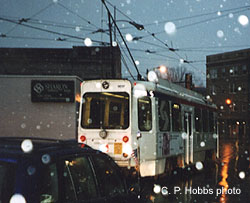 The route ended at the Darby Loop, which consisted of a large bus shelter with trolley tracks. The frozen rain (it was too coarse to be considered "snow" in my opinion) had started to fall.
To ride back, I boarded an #11. This route runs along Woodland, which is much more livelier with a variety of shops (although most of them were closed this Sunday evening). We picked up quite a few passengers up to the subway portal at 40th; most of these got off at 30th or 15th Street stations. I got off at 13th (City Hall), had dinner, and walked back to my hotel in the freezing rain.

Monday, March 18
I had breakfast (and updated this trip report) at the Internet Cafe mentioned earlier, then walked over to the 15th St station and boarded the Market-Frankford Subway going westbound.

As this was still the rush hour, the trains were running skip-stop (some trains only serve "A" stations, others serve "B", like Chicago used to do). Since rush hour was about over (around 8 a.m.) and we were going away from Downtown, ridership was light. There was one or two panhandlers/incense sellers on the train, no big deal.

The train came out of subway and turned into an elevated around 46th St. The neighborhood it ran through....let's just say it made the South Side of Chicago look decent.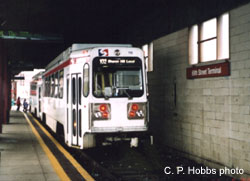 The route terminated at 69th St Station, which had a medium-sized station building, with a customer service office (schedules!) and some shops, newsstand, etc. Various buses and trolleys serve this station as well as SEPTA's "High Speed" line to Norristown (#100). I walked over to the trolley loop and boarded the #102 trolley to Sharon Hill.
The trolleys used on #102 and #101 (to Media, PA) are different than the ones used for the Subway-Surface line described over. For one thing, these trolleys are double-ended (which is necessary, as there wasn't a turnaround loop at the end of the #102 line). They also have seats facing both ways.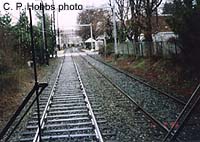 Both #101 and #102 share a reserved right-of-way up to Drexel Hill Junction, where the two lines diverge. Again, if you're familiar with the Muni "J" car running through Dolores Park in San Francisco....well, Septa's #102 trolley is much more scenic in places, sometimes running near nice houses (Aldan) or through wooded areas (Oakview). The route ended in Sharon Hill, a rather quiet little neighborhood with a few fast-food places near the trolley terminal. I had to run across a wide arterial (Chestnut) to catch the #114 bus going back to Darby. There, I caught an #11 trolley back to Downtown via Woodland Ave.

It was now about 11 a.m. I checked out of the hotel, but left my luggage at the front desk (they will hold it for you....) and walked along Market St toward Penn Landing. There was a light rain falling, but no snow, ice, etc.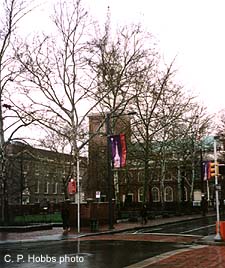 I walked past the Liberty Bell site (6th/Market) but the line was too long, so I decided to have lunch first. I walked past Christ Church, near (but not to) the waterfront, then through the Old Philly area, which was mostly bars and a few panhandlers, but I found a pretty good diner called "Benny's". Pepper steak with onions, not bad...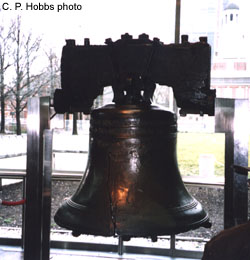 Then I walked over to the Liberty Bell again. By that time, the line was much shorter, and faster moving as well. Admission was free , but there was an airport-style security check (get used to it folks, these things are not going away!) Finally I got to see, and photograph the Bell. The rangers even let little kids touch the Bell, which was shocking to me....

Afterwards, I walked over to the Atwater Kent Museum. No old radios (as I thought there would be), but plenty of artifacts about the early history of Philadelphia. I was also planning to visit the African American Museum of Philadelphia (a couple of blocks away), but like many museums it was "closed Mondays". Maybe next trip....So I walked along Arch St, through Chinatown and toward the Suburban Terminal (Downtown Philly's other train station) and bought a ticket on Septa's R7 Regional Rail to Trenton. (I thought they sold NJ Transit-Septa joint tickets to New York, but they did not!)
| | | |
| --- | --- | --- |
| | After getting my luggage from the hotel, I walked the two blocks back to Suburban Terminal. Now, Suburban Terminal is nice on the surface, lots of the requisite train station shops and restaurants and such, but getting to the trains....first of all, there are no elevators to the train level, so I had to hustle my luggage downstairs. Also, the platform area could use some work: the roof was leaking in a couple of places. | |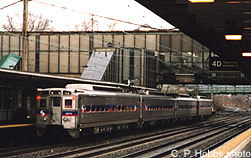 But anyway, at 3 p.m the train arrived, and a small crowd boarded. Septa uses single-level self-propelled electric commuter cars with 3+2 seating on this route. We picked up a larger crowd at 30th St station, and then the conductor collected/punched our tickets as we left 30th St.
The area this train passed through is a mixture of "suburbs" (actually small towns in their own right), open/wooded space, a few industrial areas, and maybe a junkyard or two. The ride from Downtown Philadelphia to Trenton, NJ took about 45 minutes.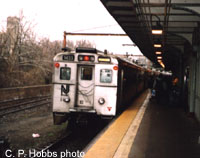 At Trenton, I fought with another ticket machine and bought a ticket for the New Jersey Transit train towards New York. (This trip cost $7 for SEPTA + $9.45 for NJT = $16.45 -- not bad, considering Amtrak would have been $46 for the cheapest unreserved fare. And of course, there were plenty of Amtrak and Acela trains flashing by on the route.
The train was lightly loaded out of Trenton, but we picked up our biggest crowd in New Brunswick. Metchuen and Rahway were also popular stations. Around 5:30 or so, we entered the tunnel under the Hudson, and a few minutes after that, we were in New York Penn Station.

I rolled my luggage out of Penn Station, swimming against the heavy commuter crowds on their way to their NJT, or LIRR trains or their subway connection. Once out on the street, I walked south along 7th St. towards my hotel.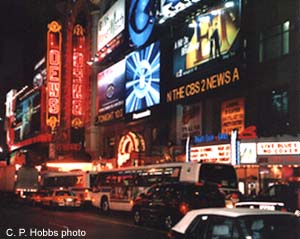 What did I notice? Pretty much the same things, the same people I saw last time I was in New York, in late 2000. Although I don't possibly know everything that might be going through people's minds, there seemed to be a sense of "moving on just a little bit". Of course, we've just moved from 6-months ago, and onwards towards one year, five years, 10-years from now....who can really predict?
After checking in, I walked back up 6th Ave, towards 42nd St, just as I had done before. It was still an exciting place to be a part of. Did I notice a touch of ... gentillity in the way people talked to each other that I didn't notice last time I was in New York?

Tuesday, March 19
I started off today's trip with the #1 subway line from 28th St. The first train that arrived was too full, so I waited for the next one....I got off at Fulton St, in the heart of the Financial District.

Tickets for the WTC viewing platform were available at the South Seaport Museum ticket office. There was a longish line, but it was pretty quick moving. Soon I had my ticket for the 11:00 viewing. It was about 10:30, so I walked around South Seaport (sort of like a small Fisherman's Wharf, or San Pedro's Ports O' Call) until about 10:45, then I took the walk north along Fulton.

There was another line at the viewing platform, as only a small crowd of people were allowed on at a time. While in line, and walking up the ramp, there were lots of artifacts (shirts, posters, poems, etc.) left in memory of the victims of the WTC attacks. These items moved me more than looking at the site itself, which is now just about bare, at least what we could see of it...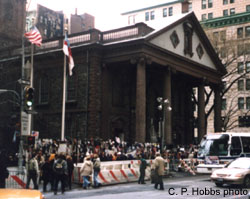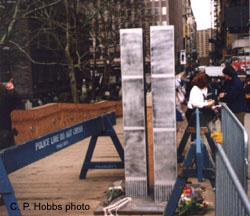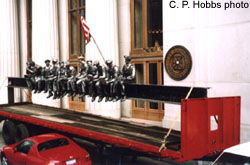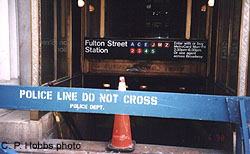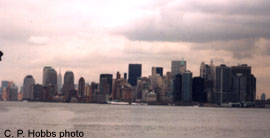 After leaving the platform, I took the #M1 bus (which had just recently been put back on its original route) down south toward the Staten Island ferry. I boarded the ferry, and took a few pictures of the now very different NYC skyline.

At the Staten Island terminal, I boarded an #S78 bus and rode it to Hylan Bl (where the S78 and S79 meet) and made a quick stop to buy more film. Then I got on the #S79, which went over the Verzanno-Narrows bridge and into the Bay Ridge neighborhood of Brooklyn. Both #S78 and S79 were busy buses, with all seats filled and the occasional standee.
From Brooklyn, I caught a #R subway. As the train passed through the Cortland St. station (closed after 9/11) we slowed down quite a bit (but did not stop); it almost felt like a gesture of homage. I changed to the #6 at 14th St/Union Square, where there was another mini-memorial to the 9/11 victims. I rode #6 all the way up to 33rd St, and walked around Murray Hill/St. Vartans (had lunch there, and took some pictures of NYCDOT buses--Command, Green, Triboro, etc). Then I walked over to Madison Ave, and boarded a #M1 bus going north. This part of Madison Ave. was a tony, upscale neighborhood full of fancy restaurants and fashion houses. I got off at 72nd and walked across Central Park (taking the long way through the wilderness areas, the fishing lake, and "Strawberry Fields") over to the Upper Westside.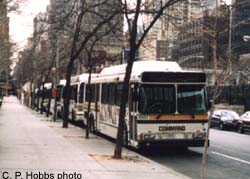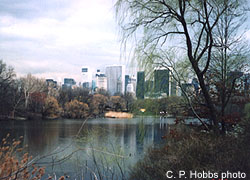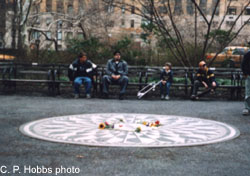 A quick trip on the #B subway finished this excursion at around 5 p.m.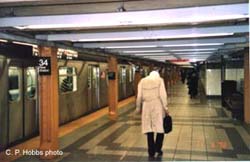 There was just one more thing I needed to see...the WTC spotlight display.
So after finishing the last post at the internet cafe, I walked to the subway and boarded a southbound #2 train. It looked like a very new car, made up of very shiny steel. Inside, male and female voices announced the station, and warned people to stand clear of the doors. An interior headsign also displayed the next station stop.
I stopped at Penn Station to buy my Amtrak ticket for tomorrow's trip ($71 to travel unreserved between New York and Washington DC) and to have a quick fast-food dinner (mistake: probably cost me twice as much if as it would have outside of the station). Then I got back on the #2 train, riding again to Fulton St where I deboarded.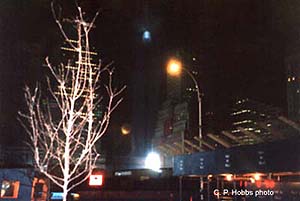 This time I walked directly toward the WTC site where I soon saw the two spotlight beams. The beams themselves looked rather faint, but they made an interesting splotch of light on the clouds. I thought about getting on the Staten Island Ferry again to take a look, but decided against it due to the low temperatures (about 36 F or so). After about 15 minutes or so in the very cold air , I got back into the station, rode a #1 or a #2 uptown to Times Square, where I walked around for about an hour, before catching a #R train back to my hotel. As I got out of the 23rd St. Station, I looked north to view the brightly lit Empire State Building, then glanced south to see the beams of light shining upwards from the WTC site.

Wednesday, March 20
I got up around 6 a.m, checked out of the hotel around 7, and started walking towards Penn Station to catch my 8:05 Amtrak trip to Washington DC. It took a little while to find the proper track, but after I did, no problem.

The train was very nice. It was, again, Amfleet equipment, but they had upgraded all the seats. In fact, I thought I was sitting in the Business Class section when I first boarded! The trip to DC was uneventful, although I had an interesting conversation with a senior manager from the FDA.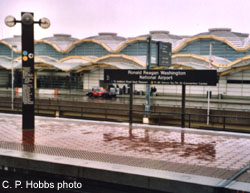 At Washington DC, I had lunch in the food court, then hopped a Yellow Line Metrorail train to Reagan National Airport. I noticed that they had finally renamed the Metro station from just "National Airport" to "Ronald Reagan National Airport". I was about three hours early, as suggested, but probably could have cut it close to 2...
Before taking off, the crew warned us of the dire consequences if anyone left their seat before we got out of the 30-minute time period (e.g. the airplane would be immediately diverted to another airport, etc.) As we took off, I got a glimpse of the whole Pentagon before we disappeared into the clouds.

While landing at St. Louis, I saw MetroLink light rail cars moving about on their tracks. This time, the walk and the wait wasn't that long; indeed, by the time I got to the departure gate, it was almost time to start boarding again.
I made it to LA at about 8:30 p.m., waited 30 minutes for a checked bag then boarded the Flyaway at 9, got home around 11 p.m. Not too bad.
---
Transit | Home Page