Today, after discovering how the Royal Mail works (40p or 60-cents for a postcard back to the US), I set off to try to do some *real* sight-seeing for today.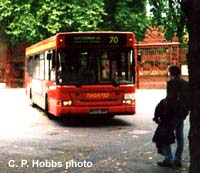 First stop, the Science Museum. From Queensway/Bayswater, I rode the #70 bus thru Kensington, and got off at Queensway. (The bus was another of those single-decker, low floor models). On my way to the Museum, I walked by the Royal Albert Hall, the Royal College of Organists building, and through the Imperial College campus.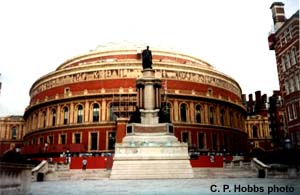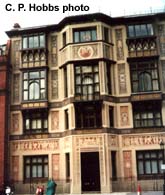 (There was a lot of scaffolding up, as some of these buildings were undergoing remodeling. But that seems to be true all over London at this time, as many buildings date back from the 1800's...and earlier)
The Science Museum...how can I describe it. Displays on technology in the modern world, gas, diesel and steam engines, different types of lighting, chemical and nuclear science, early computers and such...I spent two hours in there and didn't see everything. (The medical and veternary stuff will have to wait until next trip).

Next stop, Buckingham Palace. From the museum, I walked down a dimly lit subway (remember, in England a "subway" is an underground walkway, not a transit system) to the Underground station at South Kensington. From there, I caught the Picadilly Line to Green Park, and walked along the "Queens Walk" to Buckingham Palace. As you can expect, there were tourists from all over the world, snapping pictures. I took my share...Yes, the guards in the red coats and fuzzy hats were there, putting on a show for us. Of course there were a few "real" cops around as well.

From the palace, I walked down to Victoria St. in preparation for my next bus. Before riding off, though, I visited the Westminster City Hall, which had a small branch library in it. (The library arranged its books rather oddly: instead of using a pure Dewey Decimal order, it had three letter codes for each subject--"COM" for computers or "TRA" for travel, and arranged the books by code order. Strange....)
| | | |
| --- | --- | --- |
| | Next, I took Bus #24 to Westminster Abbey and Big Ben. I did hear the bell, although it can be hard to hear over traffic sometimes. Lunch was fish and chips in the nearby Methodist church cafeteria...not exactly gourmet, but filling. I spent a little more time trying to get a good picture of Big Ben and a red bus, so I could have it and say, "I've been to London". | |
Onward. I took Bus #11 to the Strand/Aldwych, and searched around for awhile for the London Transport Museum . It took me awhile to find it (the bus map is not particularly accurate). It was three blocks away, in a pedestrian plaza called "Covent Garden".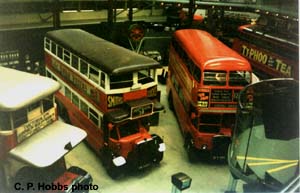 The museum was worth the search. Loaded with historical buses, trains, and even a display of "London Transport in the Future". (Maglev and flying cars get a mention, but the main point of the exhibit is alternatives to private autos). There was a gift shop and I bought a few things, although some prices seemed high (£3.99--$6 for a refrigerator magnet the same size that (Los Angeles) MTA gives us for free?)

Now for some heavy duty transit geekery. I walked across the Waterloo Bridge and into Waterloo Train Station (This is where I caught the Eurostar to Paris on Wednesday). Again, this invoved a walk through a subway, with a couple of sleeping bums and a sax-playing busker (street musician). I tossed the busker about 20p (30-cents) telling him that I'll pay buskers, but not panhandlers.
Waterloo was the typical big city train station, like Victoria, Paddington, etc. (All these places are about as busy as Penn Station in New York, with commuters, long distance travellers, etc.) I noticed that Eurostar had adopted "until further notice" some of the same restrictions on carry-on baggage that the airlines have (no knives, etc.)...
I walked to the Underground station (another rat-maze, although this one was new and clean) to the newest Underground line--the Jubilee Line. This route even has a second set of doors on the platform that only open when a train has stopped there.
The first eastbound Jubilee Line was packed (it was about 4:30 pm, start of rush hour), so I waited about 3-minutes for the next one, which was a bit less packed. The ride was the smoothest of any rail system I've been on so far. I could have rode it all day, it was so good, but I did want to get some Docklands Light Rail riding in before it got too late.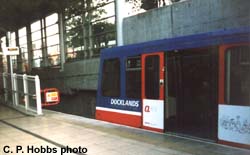 So I got off the Jubilee at Bank, and walked downstairs to the DLR platforms. (DLR isn't really "light rail" as we know it...think of it more like the Staten Island Rapid Transit--without drivers). The route is mostly elevated, with tunnels in a few places; there are no grade crossings (since there is a third rail, that's probably a good thing!)
I took a Lewisham-bound train (There are several DLR routes that go other places in East London as well). The line travels through an ex-industrial area that is slowly becoming developed with skyscrapers, etc. But here and there exist a few run-down neigborhoods. I got off the end of the line at Lewisham. The combined DLR/train/bus terminal was a rather run-down place loaded with security cameras. But the staff was helpful, adnd there was even a little snack shop there.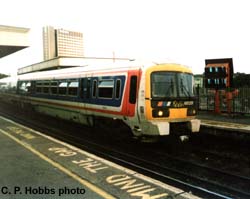 Since the Underground doesn't really cover South London (i.e. south of the Thames) particularly well, conventional trains fill in. These are single-level, 8-10 car electric commuter trains. Inside, there is 3+2 seating, like the New Jersey Transit commuter trains. However the routes of London's commuter train network are much more complex than Chicago's Metra, or anything running out of New York. A timetable is a must-have. These trains generally run every 30-minutes offpeak and night, 15-minutes or better during peak hours. For trips within the zones served by the Travelcard, the same Travelcards that are used for the bus and the Underground are valid on these trains. There are supposed to be occasional fare inspections (with penalty fares of £5--about $7.50), for people without the proper ticket. But no one inspected us on this trip. Again, this was a commuter-type operation for the most part, with the train dropping off more passengers than it picked up.
I rode a Connex train between Lewisham and Elmers End; the ride took about 20-minutes. The stations are simple affairs, much like those on Metrolink, Metra, etc. in the U.S. They're not very handicapped accessible, though (lots of stairs on footbridges crossing tracks).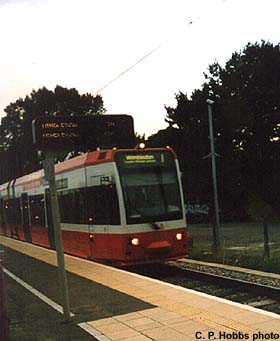 At Elmers End, I caught the Croydon Tram headed to Wimbledon. There are three tram routes in Croydon (a city south of London). The trams are more like what would be called "light rail" in the U.S. (L.A. Metro Blue Line, San Diego Trolley, Portland Max, etc). In some places they have their own right-of-way (abandoned railroad line); elsewhere they run in the street, either in exclusive lanes or in mixed traffic. In downtown Croydon, the tram operator had to get out and turn a switch manually for some reason--that probably isn't usual. At this time of day (about 7 p.m.) ridership was heaviest on trips leaving Croydon. There was a fare inspection somewhere between Downtown Croydon and Wimbledon; someone (Not me!) almost was asked to leave the train before he finally dug out his ticket!
The entire ride between Elmer's End and Wimbledon took about 45-minutes.
At Wimbledon station, I grabbed a quick bite before hopping on the District Line (Underground). This particular "Underground" line is actually open-cut or even elevated for much of its route south of Earl's Court station (Fulham Broadway is underground--think BART through Berkeley!) I got off at Bayswater Station and headed for the internet cafe to write this up.
Whoo-hoo. And to think all this could be done with a £4.30 ($7) Travelcard (day pass)...