The Owl Trip, Aug 18, 2001
---
Owls are spooky, dangerous things. Don't mess with them -Me.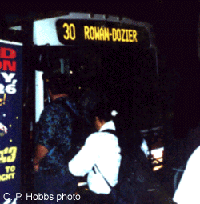 I've never been on any of MTA's owl (all night) bus service, never really had a reason to do so. (The closest I've ever came was catching the 10:50 p.m. Culver City #6 from UCLA and arriving at Palms/Sepulveda and getting home around 11:15) Besides, that's when all the wierdos come out, right? But the planned SO.CA.TA owl excursion made me curious. So, I ended up at the Union Station fishtank with about a half dozen other intrepid adventurers...
Our first segment was the MTA #33 to Spring/Temple. We boarded it (we were the only passengers, although we picked up a few by the time we get off). Some bum was at the stop begging for money and giving us a hard time when the other bus arrived, but was otherwise quiet.
The #92 didn't pick up too many people in Silverlake or Echo Park, but picked up quite a bit when we hit Glendale. Unfortunately, our next bus (#180) left a bit early, causing us to miss it. So we hung around Downtown Glendale, which glowed like a hot wire with neon-decorated mall-like stores (Gap, Borders Books, etc.) and people having a good time. We figured out our next move, since missing the #180 put the kibosh on our next segment (#156) and decided to take the next #180 to Hollywood, then ride the subway back to Union Station.
The #180 arrived around 10:12 p.m., and it was nearly full but we all found seats. By the time we hit Los Feliz Blvd, there were a few standees. Everything went smoothly except for this weirdo who got on somewhere in Los Feliz. He paid no fare, having b.s'd the driver ("I'm only riding a couple of blocks"--hell, he rode all the way to Hollywood) and proceeded to hit on every female on the bus. What an embarassment.
The subway was full of (mostly) younger folk coming back from Hollywood. Most of that ridership got off along Wilshire--by the time we left 7th/Metro, the car was just about empty.
Capo and Woody joined us at Union Station. Woody had taken #156 inbound, and reported that there was only one other passenger onboard that bus.
There was a bit of confusion as to where to board our next bus, the #439. It usually stops at Bay #6, but because of construction, it was stopping elsewhere. But we did manage to catch it. Again we were the only passengers, and it would remain so for most of this trip segment. (One additional passenger boarded on La Cienega/Jefferson, and another at Sepulveda/Centinela). Highlights of this trip included the traffic congestion near Staples Center (the rest of our trip was high speed and traffic free) and the unlit transit center near Fox Hills Mall.
We made it to LAX around 12:25 a.m. A.M! We were now officially in the owl service portion of the trip. Since our next bus (#40) wasn't due to leave until about 1:20, we took a break here, taking advantages of the vending machines (Damn good coffee! And Hot!), some Halloween candy that Dana had brought along, and the commodious public restrooms at the shuttle depot. We also watched the LAX shuttle buses arrive and depart, like clockwork.
The #40 was late, not only because of a traffic problem on Crenshaw, but because when we were leaving, the back door interlock wouldn't shut off. (Buses cannot move while the interlock is on). But Powell the coach attendant was with us, and he was able to get the problem fixed. We left LAX, with about 5 or so other passengers, around 1:40 p.m. We picked up quite a few more once we hit the nightclub area in Inglewood. By the time we got to Crenshaw and King, we were full with a few standees.
A few lowlights of the #40:
passengers cheering when we passed by "The Jet Strip" club (including some of our members. For shame!)
some guy yammering and cursing in Spanish
Another drunk chiding everyone for talking too loud. Mostly directed at the Spanish speaker, but also at some of the louder SO.CA.TA members as well.
Because of the late departure, the iternary had to be modified. Instead of going back downtown and riding the #83 to Eagle Rock, as we had planned, we decided to get off at Western, take the #207 to Pico, then ride the #30 to Downtown. That would mean (gulp) getting off the bus and waiting around in these not-so-good neighborhoods. But I figured that there was safety in numbers. As we got off the bus, the loudmouth warned us "Beware, you're in South Central!". The street corner was kind of dark. There didn't seem to be much (auto) traffic out on the street either, although a cop did roll by.
There was about a 10-minute wait for the #207. when it came, it held about 2 minutes for timed transfer purposes, then we were on our way. There were about 10 or so other passengers on the bus, and we picked up a couple. We got off at Western and Pico.
At Pico/Western, there was a lighted gas station. Not too many people around, except for a couple of stumble bums (one asked us for money). After a while, the #30 pulled up (a nice new NABI bus) with only one other passenger. We boarded it and rode,without picking anyone else up, to Downtown.
The Lineup (where most of the owl service buses meet to transfer passengers) was a bit of a disappointment. Some buses loaded on Broadway/7th, others at Spring/7th, still others on 7th St. It was also suprisingly quiet at 3 AM, no panhandlers or other ne'er do wells hanging about.
It was about 3:10 when we boarded our next bus, the #51/53 owl loop combo (it runs down Avalon as a #51 to Manchester, then comes back up Central as a #53. One loop takes about an hour). Once again, we were the only passengers on the Avalon section, and I don't think we boarded anyone. The trip became a blur of closed shops and quiet houses, all eerily lit by orange-yellow sodium vapor streetlamps. I think I nodded off one or two times during this segment. Going north on Central, we did pick up a couple of passengers. As we approached Vernon, and the old jazz district, the driver played gospel music on a radio, adding a bit to the ambiance. We picked up a few more people in the Skid Row section of town.
At 4:10 am, we boarded our last owl trip: #60 to Long Beach. This bus originated further north in Downtown and already had a load of about 15 passengers when we got on. Now being up all night was really starting to take its toll, and I dozed off several times. I was awake during the owl route deviation to Compton Station, and I saw a Blue Line train with one or two passengers on it. I also vaguely remember a Greyhound station near Anaheim St and Long Beach Blvd...
We made the Long Beach Transit mall around 5:30 a.m. After watching a few early morning buses take off, we walked over to the 1st St station and caught the Blue Line back to LA. Now I commute on the Blue Line nearly everyday, but the time and direction we were riding gave it a strange, but not unpleasant, feel. Once in Downtown LA, we had breakfast at Riordan's Pantry restaurant, then went home.
I can only speak for myself, but having completed this owl excursion gave me a strange sense of something...was it bravery, for having conquered the fear of riding the bus late at night ? Was it a sense of connecting with a different culture--the culture of the owl service bus rider? Was it the fact that I saw a face of LA that most people never deal with?
---
Transit | Home Page