Santa Clarita, 1985
---
I must have taken this trip in the summer of 1985...Mid June, I believe.

From Pasadena I took #180 to Los Feliz, then transferred to a northbound #94. No big deal there. I got off the #94 at the San Fernando Greyhound Station. (Remember, this was before Metrolink and Santa Clarita Transit even existed!)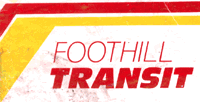 The one-way Greyhound fare was relatively cheap (oh, about $2.50 or so). While waiting for the bus I found a beat-up brochure for a transit service called Foothill Transit. (No, not that Foothill Transit...that wouldn't show up for at least two more years. This Foothill Transit was a City of Los Angeles-sponsored dial-a-ride in the Sunland/Tujunga/Sylmar area, where the #90/91 buses operate).

Finally, the bus pulled up. It was one of the newer (at that time) MCI-9 coaches. After a nice ride through the San Fernando Pass, we arrived in Newhall. The Newhall Greyhound station had closed some time ago, so the buses were stopping at a beauty salon on Market St. An older lady was stationed just outside, passing out handwritten schedules for the Greyhound and Blue and Gold bus routes.
Soon a Blue and Gold Paratransit bus (just a vanpool- type van, really) pulled up. I bought my return ticket and picked up a couple of schedules (they ran service between L.A. and Lancaster, and service between Lancaster and Mojave, I think. They had also ran a L.A.-Riverside line, which, according to the driver, they were planning to "fire up again soon".
There was still a few minutes before the Santa Clarita local bus was to show up, so I killed a few minutes in the nearby public library.
In a while, the Santa Clarita local bus showed up. (They ran about once an hour).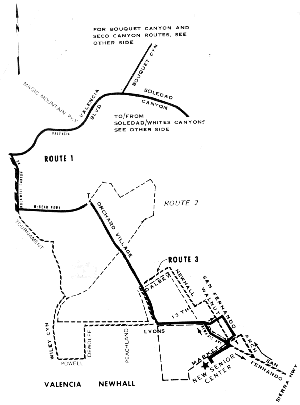 About these buses: at the time, the County of Los Angeles (there was no City of Santa Clarita yet) operated transit service in the Newhall/Saugus/Valencia/Canyon Country area, just north of the San Fernando Valley. (They also ran commuter service to/from Downtown Los Angeles, but there were no other public transit connections between Santa Clarita and other parts of L.A. County. (As of 2000, transit between Santa Clarita and the rest of the world is still limited to Metrolink and some Santa Clarita Transit commuter runs. Much better than it was, but not quite where it really should be).
Anyway, the local Santa Clarita Valley service was provided by the Antelope Valley Bus Company, under contract to the County of Los Angeles. Antelope used white and green "Fishbowl" GMC's, with "Antelope" written on the side. The buses lacked proper headsigns, so one had to ask the driver to be sure the right route was chosen. Fares were still 50-cents (RTD had gone up to 85 cents, or was about to).
I think I boarded Route #1, which started on Market St, then via Newhall, Lyons and Orchard Village. The bus wasn't horribly full, maybe about 1/3 full. The bus stop signs resembled the old RTD yellow triangles, except with the County of Los Angeles seal pasted over the RTD logo. But the drivers could stop at any safe area along the route.

I got off at California Institute for the Arts (CalArts) and walked around a bit. School was out, and there was really nothing going on, but some of the left over art projects looked interesting.
After a quick bite in a local deli, it was time to get back on the bus, and make my way back to civilization. This time, instead of Greyhound, I would take the Blue and Gold Van back to San Fernando. I was the only passenger on the van.
The Blue and Gold driver (a really chatty type who sounded as if he should have been on the radio) let me off at the San Fernando Trailways station, where I caught the #94 bus to Downtown L.A. That #94 was so crowded that not only was it passing up people at stops, but one guy actually paid some kid $5 for a seat...
---
Transit| Home Page