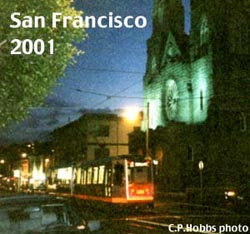 Another conference! This time in San Francisco. (My last trip to the Bay Area was in late 1999). So while everyone else was wondering how much a taxi between the airport and hotel would cost, I was visiting the transitinfo.org web site.
Thursday, Feb 8
I arrived at Oakland Airport around 8:30 a.m. I walked past the long line waiting to buy $2 Air-BART shuttle tickets and outside to wait for an AC Transit "A" bus. After an interminable parade of parking-lot and rental-car shuttles, the AC "A" bus pulled up to the stop.

This was one of AC's new 45' buses with commuter features such as outlets for computers. About five people boarded along Hegenberger Road before getting on the I-880 Freeway. As the bus creeped thru the slow freeway traffic, the driver and a couple of passengers talked about the bus business.

Everyone except me got off in Downtown Oakland, where three more got on for the ride across the Bay Bridge. Traffic was pretty free-flowing across the bridge.

The transbay terminal was absolutely empty, no shops open, not even a bum hanging around.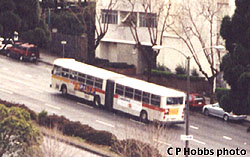 I walked up to Market Street and took a westbound Muni #38L, thinking it would be faster than the regular #38. It was, but it skipped the stop nearest to my hotel. So I had to walk back about four blocks.
I had made arrangements to visit the computer museum warehouse later that afternoon. So I rode Muni #38 again to Downtown San Francisco, and from there, took BART to the Oakland Airport station. The owner of the computer museum drove me to a warehouse in Oakland, where he had lots of old computer equipment, from calculators to IBM mainframes. After perusing all of his stuff, and chatting about the dot-com fallout, he dropped me off at the Castro Valley BART station.
To get back to the hotel this time I used #38L then transferred to #38 at Van Ness St. That worked really well (the #38 was right behind the #38L).
Friday, Feb 9
After all day in the conference, I rode downtown via the Muni #2 electric trolleybus. At Market st. I transferred to Muni Metro. Even though it was around 5:30 p.m., the train was not so crowded. I rode #J through Delores Park (it was just starting to get dark then) and Noe Valley to Balboa Park. From there I was going to take a #K back, but the #K tracks was under construction, with shuttle buses replacing the streetcars. So I got back on the #J, stopping on Church St for a slice of pizza. (and to take the picture at the top of this page!)
Saturday, Feb 10
For me, the conference was now over. I wanted to meet a friend up in Marin County, then visit with a relative in Fremont.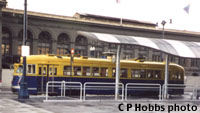 I never rode the ferry to Larkspur before (I did ride it to Sausalito a few years ago), so I decided to do so. I bought a ferry ticket at the GGT booth in San Francisco (behind the Ferry Building). I had about an hour before the ferry was to depart, so to kill a little time,I rode the new #F streetcar line to the waterfront and back. I still had some time left, so I stayed on the streetcar down Market St, then rode Muni Metro back to Embarcadero.

After all that, it was time to board the ferry. The boat was about 1/3 full of passengers, including a few kids running around. One fellow bought (at the boat's on-board snack bar) hot chocolate for his kids, then bought one for himself -- with a shot of brandy! Hmmm, I thought...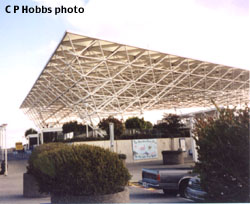 In a little under an hour, we were at Larkspur, where I met my friend at the ferry terminal. We walked up to the Larkspur shopping center. It was almost devoid of any open businesses, although some remodeling was going on. We did manage to find a place to eat, then we walked back to the ferry terminal.
On the ferry back to SF, I tried the hot cocoa w/booze that I saw someone order earlier. The bartender made a cup of hot cocoa, then poured a shot from a bottle marked in Chinese characters into it. That adventure set me back $5.50 and gave me a slight headache more than anything else. The kids running around the ferry bugged me too.
When I arrived back at the San Francisco Ferry Terminal, it was just about 5 p.m....just enough time to ride BART to Fremont, meet my relative, then ride back to the Oakland Airport for my flight home.
---
Transit| Home Page