East Ventura Excursion 2006
On Saturday, September 16 2006, I went on an all-day transit excursion from Rancho Cucamonga to Simi Valley and back....

Metrolink from Rancho Cucamonga to LAUS
I boarded Metrolink train #355 from Rancho Cucamonga and rode it to Union Station. The train seemed pretty full, but a lot of people got off at the Pomona Fairgrounds.
At Union Station, I checked my pockets. Uh-oh, my cell phone was missing. I did a cursory check of the train car where I was sitting; nope, not there. Maybe I left it at home….or so I hoped.
Red Line to North Hollywood
After calling home from a pay phone, I boarded the Red Line train to North Hollywood. It was an uneventful ride. I rode it all the way to the end of the line at North Hollywood, exited there and walked across the street to the Orange Line station.
Orange Line
The next Orange Line was to leave at 11:06, according to the electronic sign at the station platform. I took this opportunity to set my Ipod's clock….Soon, the Orange Line bus was ready to board. As usual, had a full load up until about Van Nuys, then things tapered off.
At one of the stops near North Hollywood, someone raced across the street to catch the bus. This prompted the driver to get on the mike and announce "There is no need to kill yourself to board one of these buses! They run every 10 minutes!"

Metro Rapid #750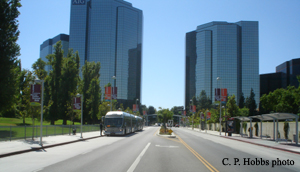 To get over to Topanga/Ventura for my next connection, I took MTA Rapid #750 from the Warner Center transit mall. Two other people boarded with me; once at Topanga/Ventura, a larger group of people got on.
I had a lunch break at the Fatburger near Topanga/Ventura. (Prices have really gone up there-a "Big Fat Deal" was almost $9!) . After lunch I walked to the gas station to use their payphone. 75 cents a call and it didn't seem to want to connect properly. Oh well….
MTA #161 to Westlake Village
Around 1 pm, about nine of us boarded the #161 to Westlake Village. Most people got off in Calabasas or Las Virgenes, so by the time we arrived in Westlake Village, there were only two other people on the bus with me. Aside from a slight slowdown through "Old Town Calabasas" and some traffic near Kanan/101 this was uneventful.
VISTA East to Simi Valley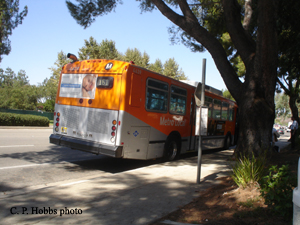 The #161 let us off at the former westernmost outpost of the MTA system: Westlake/Townsgate, just inside Thousand Oaks. (On weekdays the bus continues further along Thousand Oaks Boulevard). One passenger thought that the #761(!) stopped in Thousand Oaks, but obviously not.
I waited for about 10 minutes, then the VISTA East coach pulled up to the stop. About three people got off, I boarded, and we took off along US-101 to the Oaks Mall. At the mall, two people were waiting for the bus, but wanted the one to Ventura, So we took off without boarding anyone at Oaks Mall. At the Library stop, one passenger boarded, then we went north on the SR-23 to Moorpark.
Once in Moorpark, we stopped at the Metrolink station (picking up 3 people and one bike), Princeton/Amherst (1 passenger), and Moorpark College (1 passenger). We passed by a few higher density apartment buildings that should have had stops (in my opinion, anyway....)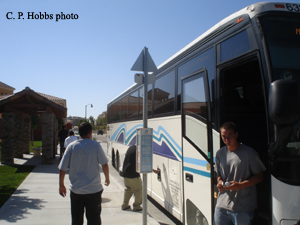 Our last stop was Simi Valley Town Center, a new outdoor shopping center. I walked around there for about 15 minutes, then back up to the bus stop. Note that Simi Valley Transit buses stop across the street from the mall (and the VISTA stop). My original plan was to ride SVT #A to the Civic Center, then take a #C bus to Chatsworth. But I must have missed the bus (or it never came)
Simi Valley #B
Around 3:30, a #B pulled up to the stop. I decided to take it, even though it would make my time spent in Simi Valley a bit longer. So we got the scenic tour via Cochran, Madera and Royal before ending up at the Los Angeles/Yosemite transfer point. I remembered a Carls Jr from the SO.CA.TA 1995 Day after Thanksgiving excursion, and decided to take a break (the next #C wasn't due to leave until 4:52)
After my snack, I wandered the intersection in search of a pay phone. The ones at the 7-11 belonged to the same outfit that ripped me off earlier, and at the nearby gas station, what at first looked like a pay phone was just a shell. So I walked back to the bus stop.

Simi Valley #C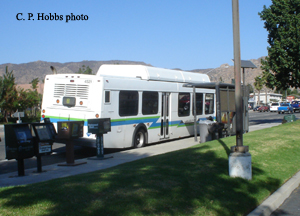 I was a little shocked when the #C bus flashed by. But, as it turned out, it had its own bus stop at the farside of the intersection. There were about five other passengers when we finally left, although one got off just before we entered the S-118 Freeway for Chatsworth. Once in Chatsworth, one passenger got on at the post office, just before we entered the Metrolink station.
Now, my main goal was to get downtown as fast as possible, so as to get the earliest available Metrolink train going back out to Rancho Cucamonga. Not having schedules for the lines out of Chatsworth made things tricky. A #166 (to Universal City) and a #244 (connecting with the Orange Line via De Soto St) had already left by the time I got off the Simi Valley Transit bus. A #245 (Topanga Cyn) pulled up to the bus stop, but I had no idea when it would leave….So I walked over to the platform and used the pay phone while contemplating my next move.
#653 to Hollywood Bowl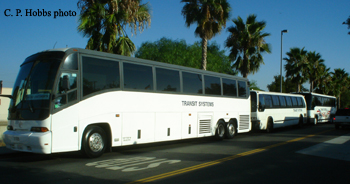 I noticed three white buses (actually, two were more like sightseeing coaches, and one transit) marked "Transit Systems". These also had dash signs "653 Hollywood Bowl". I had ridden this service from the Bowl one night and recalled their speed. So I decided to ride the 653 to the Bowl, then find my way to the Hollywood/Highland Metro Rail station. It ought to be faster than waiting for the #245, then walking over to the nearest Orange Line station from Victory/Topanga, right?

So I invested $2.50 in cash and boarded. Soon, other people boarded; mostly older couples (aged 50+), although there were a couple of kids wearing heavy metal t-shirts. Around 5:30 the #245 took off, just about the time the ticket-taker announced that the #653 would be leaving at 6:00. Was this an expensive boondoggle, as far as I was concerned?


Fortunately, the bus filled up quickly, and at 5:42 p.m. we departed. We immediately got on the S-118, then took I-5, S-170 and US-101 into Hollywood. Other than a little bit of traffic on the I-5, we traveled at top speed.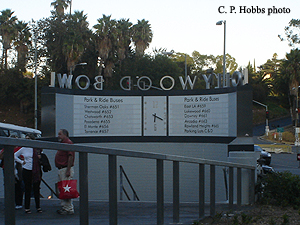 At the Hollywood Bowl, we stopped at the main bus stop (median of Highland) and were told where to pick up the bus for the return trip home. Then we drove up the hill to the box office. We got off, and while everyone else anticipated a great concert with fireworks, I made my way to the southbound MTA bus stop to catch the #156 to Hollywood/Highland. It only took about 10 minutes before that bus arrived.

#156 to Hollywood/Highland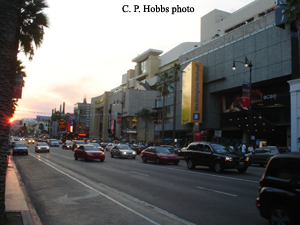 Traffic near Highland/Franklin is usually a mess, Bowl Concert or not, and today was no exception. It took us almost 10 minutes to make it through that intersection. We finally made it to Hollywood/Highland where I got off, crossed the street, and headed for the Metro Red Line station.
Red Line to Union Station
I didn't have long to wait for the Red Line, either. The car I was in had a full seated load, mostly families coming back from Universal Studios.. Most got off along Vermont, or at Alvarado and Wilshire.
It was about 7 pm when we arrived at Union Station. Not being sure about the Metrolink schedule, I ran upstairs to the platforms.
Metrolink #372
It turned out that the train was to leave at 7:45, not 7:15 or even 7:30 as I originally thought. So I hung around Union Station a bit, then made my way to the train. It was lightly loaded, probably fewer than 10 passengers in the car I was in (including a couple of "I-just-got-out-of-jail" types). We departed at 7:45 on schedule; the trip was uneventful. I got home around 9:15 p.m/
(The lost cell phone story has a happy ending. It wasn't at home, but was indeed left on the Metrolink. Someone found it and returned it to me on Monday)

---
Transit| Home Page