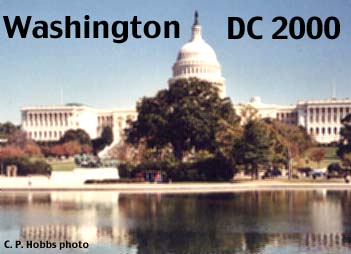 Not too long after I returned from New York, I was invited to go to a conference at the National Library of Medicine in Bethesda, MD, not too far away from Washington DC. This trip would be all-expenses paid. Never having been to our nation's capital before, (and at any rate, not one to pass up a free trip) of course I agreed to go.
The conference was to start on Monday October 23, with most participants arriving on the previous Sunday. But I was able to find a cheaper airfare than the one the program hosts recommended, enabling me to arrive on Saturday, and stay an extra day with no further expense.

10/21 (Saturday)
I traveled between LAX and Washington DC via Frontier Airlines. At Frontier's Denver Airport hub, I had a little time to walk around and glimpse the interterminal "train" system. But more on those later...As we were planning to land at DCA (aka Reagan airport), I noticed how the plane flew directly over the Potomac River, ostensibly to reduce noise impacts on the surrounding land.
Once at the terminal, it was a short, air-conditioned walk (compared to O'Hare in Chicago) to the Washington Metro terminal. (compared to the often-muggy, half mile trek at Chicago's O'Hare).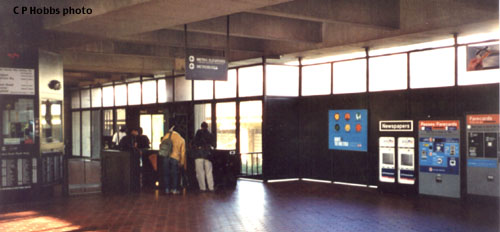 WMATA (pronounced woo-mah-tah) operates an extensive subway system in Washington DC and its nearer suburbs. (They also run buses, but I didn't use any WMATA buses on this trip). Their ticket machines look just like BART's (Bay Area Rapid Transit). In fact, it is rumored that WMATA's ticket machines will happily accept BART tickets and vice versa. But I didn't have a BART ticket handy to test that theory...
But the WMATA fare structure offers goodies that BART doesn't such as unlimited use passes (including day passes). Passengers can transfer from the Metro to the bus (but not vice-versa), using paper transfers available from BART-like dispensers in each station; but unlike BART, WMATA asks that passengers obtain these bus transfers at their originating station, rather than their departing station as on BART.
WMATA also runs later on Friday and Saturday nights (last train leaving at 2 a.m., normally around midnight).

I bought a ticket with no problem and soon boarded a Blue Line train. Again the trains resembled BART, except the seats were plastic instead of cloth like BART. The ride was smooth, mostly underground (except for a short portion near the airport and at the Arlington Cemetery), but otherwise uneventful. To get to Bethesda, I had to make a quick transfer to the Red Line at Metro Center station.
According to the WMATA web site (which I had studied extensively before leaving), there was no convenient bus service between Bethesda station and my hotel. There was supposedly a hotel shuttle available at the next station on the Red Line (Medical Center), but I was unsure of the schedule. So I bit the bullet and took a cab. ($7 and change; I was reimbursed, but it's still a pain, having to make sure to have just enough money. I think I paid the driver in quarters!).
Once checked in, I asked my program hosts if there was anything within walking distance? Nope, might as well be on the dark side of the moon. So I contented myself with eating in the hotel restaurant and staying up way too late watching the "Subway Series" on TV.
10/22 (Sunday)
After breakfast, I found out about the hotel shuttle. It was a 15-passenger van that ran between the hotel and the WMATA Medical Center Metro station every 30-minutes, but not between noon and 3 p.m.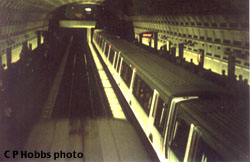 At the Metro I bought a day pass and rode to Union Station. While waiting for the train I started to notice the striking similarity of most of the Metro stations: long, long, escalators, waffle-tile ceilings and walls (which occasionally leaked a little bit of water) and not much else. Some of the major transfer stations (Metro Center, Chinatown, etc.) have some artwork, but most do not.
Lights flash in the platform edge as trains arrive; an interesting safety feature that I have yet to see anywhere else. (The platform lights seemed rather dim, though).
The train was moderately full when I got on, but it did fill up by the time it reached Metro Center.

At Union Station, I got off and walked around. Inside Union Station, it seemed more like a suburban shopping mall (with stores such as "Bath and Body Works", etc.), than a railway station. At least at Penn Central and Grand Central stations in New York, most of the businesses inside the stations tend to be restaurants, newsstands, or other traveller/commuter oriented business. Most of the stores within Union Station were closed today as well.
I ducked into a quiet neighborhood just east of Columbus Circle (near Union Station) to buy some film. I was impressed; the neighborhood was full of nice restaurants.
Also, a marathon was being run just outside of the Capitol Mall, so I had to pick my route carefully. But I did manage to get a good look at the Supreme Court and Library of Congress buildings. I walked down to Capitol South station and rode the Metro to the Smithsonian.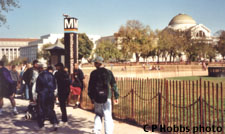 The Smithsonian is actually a large collection of museums. Most (but not all) of them are along the Capitol Mall. No-one can see them all in one day, but I was determined to try! That day, I managed to visit, for at least 15-30 minutes each, the museums on Jefferson Drive ( Freer, Sackler, the the "Castle", African Art, Arts and Industries, Hirshhorn, and Air and Space).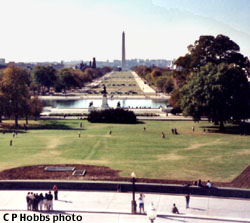 After a quick climb up the Capitol steps, I visited some of the museums on Madison Drive. I got as far as the Natural History Museum, before I decided to set aside the American History museum for another day. Instead, I walked along the Mall past the Washington Monument, and over to the Lincoln Memorial and the Vietnam Veterans Memorial, then past the White House along Pennsylvania Avenue.

I finished off my city tour with a Metro Green Line ride to Anacostia station. (The portion of the Green Line beyond Anacostia was still under construction). Leaving Anacostia station, there is a large bus plaza and little else. Smithsonian's Anacostia Museum is in the neighborhood, but was closed for renovation until late 2001 anyway. So I took the Green Line back to Gallery Pl/Chinatown, then the Red Line back to Medical Center.
10/23 (Monday)
Today was the start of the conference, to be held at the National Library of Medicine. There were about twenty-five of us, and, instead of bothering with the hotel van, our program hosts were able to convince another group to let us board their 47-passenger chartered coach (they were going to another office at the National Institutes of Health, but they gladly dropped us off at NLM on the way).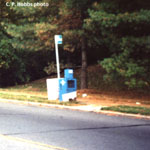 After the meeting, I walked from NLM to the Medical Center station, and waited for the hotel shuttle van. While riding the hotel shuttle, I noticed these little blue bus stop signs along the street. These weren't WMATA stops, but those of the local bus company ( Montgomery County Ride On). In fact, there was a stop right at the hotel entrance. A quick look through my ever-increasing pile of bus schedules told me that this stop was served by Line #30.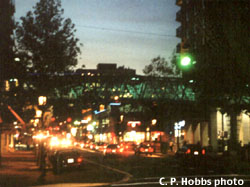 So instead of eating at the hotel again that evening, I rode Ride On bus #30 to downtown Bethesda and back. #30 serves two Metro stations (Bethesda and Medical Center). It also gives a nice scenic tour of the residential neighborhoods along the way. The only problem with #30 is that it doesn't run on weekends, or much later than 8:30 p.m. But on the trips I rode. it seemed pretty productive- the little 30 foot bus or cutaway van would fill up at the metro station, then empty out along the way.
Bethesda by night looked interesting, although not too many places were open. I did find a restaurant selling, among other things, "Ouzo Burgers" (with an interesting -- and indelibly staining-- mustard and feta sauce topping). After that little adventure, I rode #30 back to the hotel.

10/24 (Tuesday)
The conference was winding down, and it was soon time to check out and make my way back home...

I discovered that I actually had a choice of two Ride-On bus routes stopping near the hotel: the aforementioned #30, or #46 which stops along Rockville Pike (the "main drag") and was about a five-minute walk from the hotel. This line connects to the Medical Center Metro station, and runs at least every 30 minutes between 5 a.m. and 12:30 a.m, every day.

(But most of the hotel/conference planners were pretty clueless about transit service anyway, especially bus service. As I was checking out, I overheard one of the front desk clerks telling one person, who didn't want to wait for a shuttle or spring for a cab, to walk all the way to the Medical Center station -- almost a mile...)

I first planned to ride #46, but while walking toward Rockville Pike the #30 came along, so I rode #30 to Bethesda again. As this time it was during the day, I got a better look at the residential areas that I had ridden through the night before.

From Bethesda, I rode WMATA back to the Capitol Mall, where I finished my whirlwind tour of the Smithsonian museum complex with the American History museum. Since I still had several hours before I had to be at the airport, I caught the Blue Line to Foggy Bottom/GWU, walked around the university for a while, then caught a shuttle to the Kennedy Center (no performance, just looked around and visited the gift shop). and walked back to GWU, passing by the infamous Watergate Hotel along the way.) walking back up to GWU.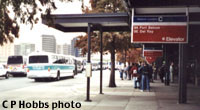 I got back on the WMATA and got off at the Pentagon...too late for a tour (not that I probably would have had time for one in the first place). I did get to see the Pentagon WMATA bus terminal, supposedly one of the largest of its type in the US. (The Pentagon is proposing to move the Metro Station entrance and bus plaza away from the building, for security concerns).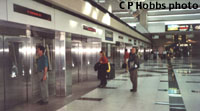 Finally I made it back to DCA airport, with plenty of time to catch my flight back to LAX. We were supposed to change planes in Denver, but the connecting plane (which had originated in New York) was running very late--so late, in fact, I had time to eat dinner in the airport restaurant, catch one of the interterminal "trains" (actually, more like a horizontal elevator) out to the ground transportation area. There, I saw a couple of Denver RTD Skyride buses, but it was too dark to take good pictures. (I was almost tempted to hop on and ride downtown, but common sense got the better of me and I took the "train" back to my airline terminal).

Eventually, my flight to LAX showed up. By the time I got to LAX, boarded the airport bus back to Van Nuys, and drove home, it was...
10/25 (Wednesday)
1 a.m!
---
Transit| Home Page