Foothill Transit Service Suggestions
in response to the 1995 Comprehensive Operational Analysis
Charles P. Hobbs
Note: All material in this document is provided for study purposes only and does not necessarily represent any existing services.
---
1. I-210 Commuter Services to Pasadena
In this era of declining capital funds for rail construction, providing quality express bus service along the I-210 HOV lanes is the key to increasing transit use between Pasadena and the eastern San Gabriel Valley
The current #690 has enjoyed a steady ridership increase since its implementation in 1991, although its ridership is still somewhat low, as compared to other Foothill express bus lines (about 14 passengers per service hour on #690, vs. 32.2 for the other lines)
One reason is that, for many prospective passengers, #690 is difficult to access, primarily because of the limited number of stops along Foothill Bl. While passengers in Claremont and Montclair can use the large park/ride lots or the numerous transit conn ections at the Transcenters to access #690, those in Pomona or La Verne are limited to one stop with no park/ride facility (Foothill/White in La Verne) and must either walk long distances to that stop, or backtrack via local buses to the Claremont Transce nter.
Another reason could be that #690, despite certain speed improvements, is still not quite as fast as it could be, because it leaves the freeway to serve stops at Lone Hill, Glendora and Azusa. (The surface street routings needed to properly serve the Lone Hill park/ride are particularly slow).
Finally, the current #690 fails to serve the heavy employment areas in East Pasadena (Foothill between Rosemead and Sierra Madre) and South Lake Avenue.
An improved #690 would operate much as it does now, except for serving more stops (perhaps all #187 stops) along Foothill Bl. This should be done in order to improve access to the line. (The number of additional stops to add along Foothill Bl. is a judgment call. Note that, however, most of the delay to #690 and #187 along that part of Foothill Bl. is probably caused by heavy traffic, not bus stops).
Also, in the interest of speed, #690 should operate directly via I-210, instead of detouring along Grand, Baseline and Azusa (this area would be served by new line #692, see below)
Instead of the proposed #693 (Diamond Bar-Pasadena Express), which served only a few locations, two new express routes should be provided. These new routes would provide enhanced service to Pomona and San Dimas and Diamond Bar, and attract new ridership f rom as far away as northern Orange County.
New route #692 would originate at the Pomona Metrolink station, and serve various park/ride lots in Pomona, San Dimas and Glendora (see map). Other stops (particularly at transfer points) may be provided.
New route #693 would serve the Pathfinder Road (at S-57) park/ride lot and Industry Metrolink before running non stop on Grand to Eastland Center. (The park/ride at S-57 and Diamond Bar Blvd. is not included because it is already filled with Line #495 passengers). Then, #693 would make limited stops on Grand through Covina and Glendora, before linking with I-210 towards Pasadena
All three lines would serve the industrial areas East Pasadena by leaving the freeway and operating along Foothill between Rosemead and Sierra Madre Bls. East Pasadena had only been served by a few trips (#691) before, but this service was so infrequent a nd slow that it failed to attract many riders, and was discontinued. The speed improvements applied to these routes should allow all trips to detour to East Pasadena.
Finally, these lines would take advantage of the new 'drop lanes' (currently under construction) on Fair Oaks Blvd in Pasadena. A modified routing in Downtown Pasadena would serve both the Walnut Ave. and Lake Bl. commercial corridors.
Initially, about four round trips each would be provided on #692 and #693, while #690 would remain at its current level of service.
I-210 Commuter Services: Lines #690, #692 and #693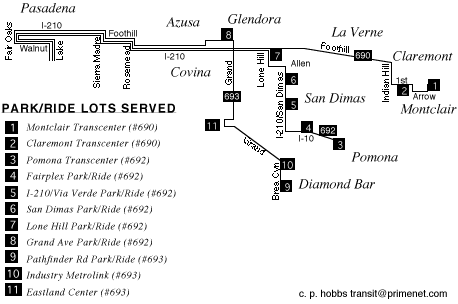 [Return to Table of Contents]
2. I-10 Trunk and Commuter Services to Los Angeles
Basic trunk service is provided along I-10 via #480, which runs 24 hours per day between Los Angeles and Pomona/Claremont/Montclair. During commute hours, several other Foothill bus lines provide service between Los Angeles and other parts of the Foothil l Transit service area. In addition, many "express" bus lines terminate at El Monte Station during off-peak hours, requiring a transfer to #480 in order to complete a trip to Los Angeles.

#480 uses I-10 for most of its length, but is routed along local streets in Pomona, Claremont and Montclair. It is a very useful route for those passengers traveling between Los Angeles and the eastern San Gabriel Valley, and it gets much use from those o nly traveling a short distance (say, Pomona to Montclair or El Monte to West Covina) along its route. However, because of its surface street routing in Pomona, Claremont and Montclair, #480 is less attractive for the long distance, intercounty traveler (i .e. from Los Angeles or El Monte to Ontario, San Bernardino or Riverside).

In years past, intercounty service was provided by SCRTD (now MTA) and its predecessor agencies. Until the mid-70's, up to three lines operated express service between Los Angeles and Riverside/San Bernardino counties. Over the years, changes in local cou nty transit funding priorities caused portions of these routes to be eliminated or replaced with other services.

As recently as 1994, a passenger wishing to travel from downtown Los Angeles (or other LA county points along I-10) to San Bernardino or Riverside would simply board the #496 for a one-seat ride. Today, that passenger may be faced with at least one transf er (and perhaps up to four, depending on the routes chosen).

Foothill proposes a new route, #479, which would operate express service between Los Angeles and Montclair, using local streets adjacent to the I-10 through Pomona (bypassing downtown Pomona). For the long-distance traveler, this route would save at least 15 minutes over #480. However, Foothill plans to only run #479 between Montclair and Cal Poly during the off-peak hours. Therefore, in order to enjoy this routing as part of a long distance trip, another transfer would be required.

Although the days of a one-bus ride to the Inland Empire are probably long gone (due to the inevitable funding squabbles between counties), each transit agency can do its best to make the intercounty connection as seamless and hassle-free as possible.

An improvement would be to operate #479 between Los Angeles and Montclair, throughout the day. Service would be scheduled to meet the Inland Empire Connection buses at Montclair. #479 would run every 30 minutes during the hours that the Inland Empi re Connection is operating, otherwise, it would shuttle between Montclair and Cal Poly only, making timed transfer connections with #480. (Full service to Los Angeles might also be provided for the Los Angeles County Fair and selected other Fairplex event s). #479 could be operated under one of the following two scenarios:

a. During midday hours, #479 and #480 would run a combined headway of 15 minutes between Los Angeles and Cal Poly. East of Cal Poly, #479 and #480 would provide 30-minute headways along their respective routes. 15-minute headways along Holt Blvd. could be realized by coordinating the schedules of #480 and MTA (possibly Foothill) #484.

b. If it is desirable to operate #480 at 15-minute headways along the entire length of the line throughout the day, #479 could still provide an additional service between Los Angeles and Montclair. In this case, in order to provide even faster service (an d reduce equipment requirements), #479 would only stop at the Busway stations, El Monte, the freeway stops at Azusa and Puente, Eastland Center, Via Verde and Cal Poly, then go into local service. (Unlike the old #496, passengers would be permitted to boa rd and alight #479 at any stop within the service area.)
I-10 Trunk Services: Lines #479,#480 and #497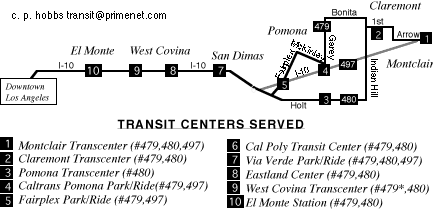 (* 479 may bypass West Covina Transcenter: see text)

As mentioned earlier, several other lines (eight Foothill and three MTA) offer additional service along I-10. One of these is #497, an MTA-operated, peak-hour only line. #497 is the fastest express bus between the Pomona Valley and Los Angeles, making on ly four stops (Montclair, Pomona, Fairplex and Via Verde park/rides) before running nonstop to Los Angeles. There has been some discussion of Foothill eventually operating #497, as well as the other two remaining MTA lines (#484 and #490).

With the advent of Metrolink commuter rail, it has sometimes been assumed that the #497 would be superseded. Although many former #497 passengers undoubtedly have switched to Metrolink, #497 still enjoys relatively high (and loyal) ridership. In compariso n to Metrolink, #497 offers lower fares, access to areas not served by Metrolink, a wider span of service, and direct delivery to many downtown workplaces.

In light of this, #497 should continue in its present form as much as possible, but with less service provided to Montclair (which is also served by Metrolink). In general, a #497 bus should not leave Montclair at the same time as, or within a cert ain number of minutes of, a Metrolink departure.
3. Foothill/Alosta/Huntington Local Services
Line #187 provides local service between Pomona and Pasadena, chiefly via Foothill, Alosta, Huntington and Colorado (the name depending on the locality). In January 1996, the eastern terminal will be diverted to serve Montclair Transcenter.

Weekday service on #187 was recently upgraded to 15-minute headways (peak) and 30-minute headways (off-peak); these headways double east of Glendora, where ridership is lower. Ultimately, Foothill may operate 15-minute headways along the entire line, all day; at least initially, maintaining the current pattern of doubled headways east of Glendora may be advisable.

Also, #187 is a relatively long local route. Each full run requires from one-and-one half to two hours, depending on traffic conditions and passenger loading. Often, extraordinary conditions can causes the buses to run late.

In spite of all of its problems, #187 is still a very popular route, often heavily loaded on the west end, and often used for long commuting trips by passengers who are not served by #690 for whatever reason.

Foothill has proposed the eventual implementation of a limited-stop route along the #187 route. Limited stop routes (which are more common in more densely populated areas such as the City of Los Angeles) operate along the same routes as local lines, but m ake fewer stops. Limited stop bus routes provide somewhat faster service than locals (although they are generally not nearly as fast as expresses). Since they operate faster over the same route, fewer limited-stop vehicles are needed to serve the same rou te length. (Of course, local buses will almost always be needed as well . . .)

(A side note: #187 is already operating in the limited-stop mode in Pasadena, due to the heavy traffic and close stop spacing along Colorado Blvd. All-stop local service is still available via several MTA routes).

In the COA, implementation of a limited stop #187 is currently being proposed as part of a hypothetical "High" level of service. The "High" level of service involves headways of at least frequent as 15-minutes on almost all lines, twenty-four hour service on several lines, and other service improvements. Such a level of service would not only be expensive to provide, but would actually result in lowered productivity systemwide. Obviously, the "High" level of service is not recommended for implementation a nytime soon. However, limited-stop service on #187 (or anywhere else, for that matter) should be considered on its own merits.

A limited-stop #187 should operate at least 10-15 minutes faster then the all-stops local version. That would be an appreciable difference for a passenger boarding in San Dimas or East Glendora and riding to Monrovia, Arcadia or even Pasadena.

There are several ways a limited-stop route could be structured. For example, the entire line could operate in limited-stop service. This seems unnecessary, given the "sparseness" of the route east of Glendora. #187 already runs quite quickly through San Dimas.

Or, limited-stop buses could be provided only over the heavier portion of the route (Glendora-Pasadena), with locals running the entire length. Passengers from east of Glendora would be required to transfer in that city, reducing the attractiveness of the limited-stop service for longer trips. Also, the speed and equipment utilization advantages discussed earlier may be more helpful towards longer trips.

Perhaps, this new service should be implemented as follows: During peak hours, #187 would provide 15-minute headways between Pasadena and Glendora, only. The new limited-stop service would operate over the entire route, with only limited stops made between Pasadena and Glendora. Limited stops would be provided at all transfer points, as well as selected other stops near major destinations. Within Pasadena and east of Glendora, the limited-stop service would observe all current #187 stops. The two s ervices would be synchronized in Glendora so that those passengers east of Glendora who needed to travel to a non-limited stop could still do so with minimum trouble.
Foothill Blvd. Services: Lines #187 and #387 (Peak hour operation only)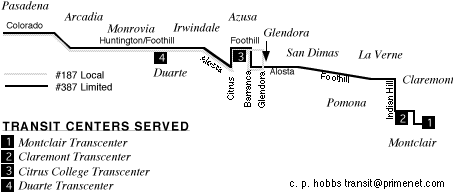 This would structure #187 similarly to certain MTA routes in Los Angeles, where, during peak hours, limited stop service is provided along the length of the route (with local stop portions at each end), while local service is provided in the middle portio n of the route.
During non-peak hours, #187 would operate local service along the whole route, as is done now.
Finally, in accordance with the MTA bus numbering system, the limited-stop version of the #187 should be designated #387.
4. Enhanced Service to La Verne via #291
In January, Foothill will implement new line #291. #291 will provide frequent service (up to 15-minute headways) along Garey Boulevard. On the north end of the line, #291 will be extended along Foothill to Towne Center in La Verne.

It may be desirable to cover more of La Verne, and provide a connection to the University of La Verne; this could be effected under one of two scenarios:

a. North of Bonita Ave., #291 would operate in a loop through La Verne. Service would be provided in both directions, on doubled headways (i.e. every 30 minutes clockwise, every 30 minutes counter clockwise, 15 minutes on the trunk). This enhancement sho uld not require any additional equipment.

b. All service would operate to Foothill/Towne Center, then alternating trips would operate to ULV via either D Street or Wheeler. An additional bus may be required, but 15-minute headways would be preserved over the entire length of Garey.
Service to University of La Verne: Line #291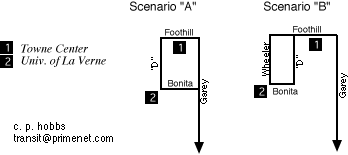 5. Raging Waters Shuttle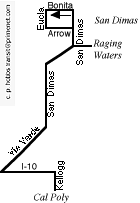 Raging Waters is a popular amusement park located in San Dimas, near I-210 and Via Verde. Currently, no regular transit service is provided to the park, although Foothill Transit buses have been used to provide parking lot shuttle service.

At the 1993 COA meetings, several participants suggested that transit service be provided along Via Verde, possibly linking Cal Poly with San Dimas and Glendora. Because of the low density along the proposed route, it did not become a part of the recommen ded service changes.

However, a seasonal shuttle service, operating at least between Cal Poly and Raging Waters, should be provided during park operating hours. (Since Raging Waters is so close to downtown San Dimas, perhaps initial service should operate there as well). This new "Raging Waters Shuttle" would provide needed transit access for Raging Waters guests and employees.

This service would also present some excellent cross-marketing opportunities. For example, Raging Waters offers a seasonal pass, good for all summer long. Certain other transit agencies have also offered seasonal summer passes, primarily to youth. Raging Waters and Foothill Transit could offer a joint pass, good for both park entry and unlimited use of the bus system. This would not only reduce traffic to the park, but would encourage transit use and develop a new market among young people. Raging Waters might even contribute some financial support for this operation, especially in light of regional trip reduction requirements.

Service might be extended to Glendora, or even further north if warranted. The ridership of this shuttle may determine whether regular service in the Via Verde area would be needed at some future date.
6. MTA as Contractor
Most Foothill Transit bus routes started out as MTA/SCRTD bus routes. Under the Transportation Zone guidelines, the MTA/SCRTD transferred the operations of several bus routes to Foothill Transit. Of course, there was (and is) resistance to these transfers , primarily by the MTA's employee unions, occasionally by the MTA itself.

In the Foothill Transit service area, only three MTA operated lines remain (#484, #490 and #497). These lines were originally excluded from the Transportation Zone because they were considered "regional" (i.e. they did not terminate within the zone). The current MTA/union contract allows for 13 local MTA lines to be operated by non-MTA operators; these lines would essentially marketed as if they were still directly operated by the MTA. This is different than MTA transferring all responsibility for a b us route to other entities such as Foothill Transit. (Express services were specifically excluded from this agreement).

As Foothill negotiates with MTA for the eventual operation of #484,490 and 497, consideration could be given to the following operating scenario: MTA would continue to operate these lines, but the schedules and fares would be determined by Foothill Transi t.

Foothill could supply MTA with vehicles, or MTA buses could be selected, cleaned and either repainted or "buswrapped" in the Foothill color scheme. To the passengers, these lines would be Foothill Transit lines; to the MTA and its unions, these would be M TA lines.

While it may seem strange for the large public sector bus operator to act as a "private contractor", this is not a new position for MTA and its predecessors. In past years MTA/SCRTD have provided downtown shuttle service under contract to the City of Los Angeles, and MTA currently operates one "Commuter Express" route, using vehicles supplied by the Los Angeles Department of Transportation. More recently, MTA has entered into an agreement with Foothill Transit to perform heavy maintenance on Foothill Tra nsit buses. (And of course, MTA handles telephone information, bus stop maintenance, security on the El Monte Busway, and other incidentals).

Of course, as operating contracts go out to bid, MTA, along with any other interested operator, should be encouraged to participate in the bidding process.
7. Fare Information in Bus Book
Although a list of fares are given in the Bus Book (pg. 99), the individual route schedules do not indicate the fare applicable for a particular route.

To make the fare information more clear, perhaps the fares could be presented as follows:

Local Service...........................................$ .85
Busway Service from El Monte to Los Angeles.............$1.90
#480 - Pomona/West Covina to El Monte...................$1.20
#480 - Pomona/West Covina to Los Angeles................$2.25
#495 - Diamond Bar/Puente Hills to Los Angeles..........$2.25
#498/499 - Glendora/San Dimas/Eastland to Los Angeles...$2.60
#690 - Montclair/Claremont La Verne to Pasadena.........$1.90


Of course, monthly pass rates would be included as well.
---
This page has been accessed times since 1/14/1999. Thank you for your support.