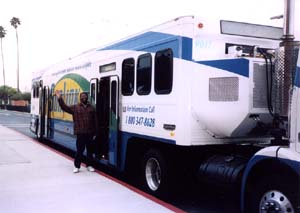 My interest in public transportation started in 1984, when I was commuting between Claremont and Irvine via five buses. While I was doing that, I kept on thinking about how transit service could be improved. Although I am no longer transit-dependent, I am still interested in improving public transportation.
Transit Links
I have been involved with the Southern California Transit Advocates (SO.CA.TA) since 1991. SO.CA.TA is a grass-roots, all-volunteer group dedicated to improving transit (both bus and rail) within the five-county Southern California area.
Transit Projects
Here
are some of the projects that I have presented (independently of SO.CA.TA):
Transit Trips
Note: Much has changed over the years since I took these trips. Use them as a historical guide. Also, not all of the trips are online yet (some of the files are still on ancient computers somewhere around here) so keep checking back for new articles and pictures.
Southern California:
Bay Area:
Pacific Northwest:
Elsewhere
Also read the following articles: How I Got Started In Transit Advocacy and It's All About The Neoplans.
---
Updated 1/14/2014